CUEB International Cultural Exchange Base for Returned Overseas Chinese Approved
Author:Translated by Wang Qi,Proofread by Li Bing
Editor:Yang Jun
Publish:2018-01-15
Size:TTT
On December 29th, 2017, Wan Lijun, President of All-China Federation of Returned Overseas Chinese, awardedthe plaque ofInternational Cultural Exchange Base for Returned Overseas Chinese to CUEB School of Overseas Chinese. Fu Zhifeng, President of the CUEB, on behalf of CUEB, accepted the plaque.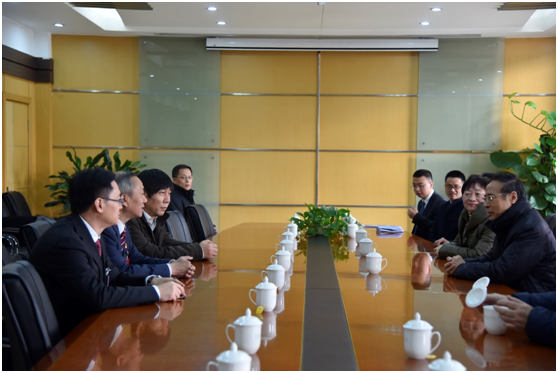 Before the launching ceremony, Feng Pei, Secretary of the CPC CUEB Committee, introduced the education of CUEB, and made an in-depth introduction oftalentscultivation, faculty training and employment of graduates. Wan Lijun, attaching great importance to the development of the School,expressed ideas on the enrollment and cultivation of overseas Chinese students and the difficulties encountered during the course of development. He then expressed the sincere wish that the School would serve the overseas Chinese better after the base is approved and promised that the Federation would continue to support the development of the School.
Before the ceremony, Wan Lijun,along with his delegation, visited the Overseas Chinese Donations Exhibition and expressed sincere gratitude to Overseas Chinese patriots. He hoped that the School will continue to exert its own advantages to reach a new height in terms of overseas Chinese service under the guidance of the spirits of the 19thCPC National Congress.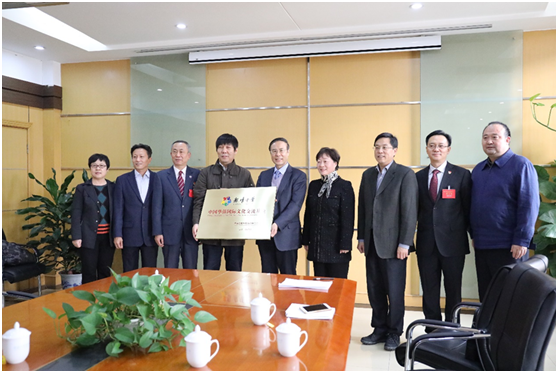 The application for "International Cultural Exchange Base for Returned Overseas Chinese"was approved by CUEB and led by the School of Overseas Chinese. Under the support of the leaders of CUEB, the application was approvedafter many rounds of reviews.CUEB School of Overseas Chinese will work to give full play to its advantages in overseas Chinese communities and provide outstanding services by combining cultivationfor returned Chinese studentswith short-term training tomeet the multi-dimensional needs of the overseas Chinese and build up a closer connection between the overseas Chinese and their homeland.