12th China Employer Brand Annual Conference Held in Beijing
Author:Translated by Meng SH,Proofread by Li Bing
Editor:Yang Jun
Publish:2018-03-19
Size:TTT
On January 20th,the 12th China Employer Brand Conference was held in China Science and Technology Hall with the theme of "Talent Big Data and Employer Brand". This annual conference was co-hosted by 9 institutions including China Employer Brand Research Center of CUEB and the organizing committee of the 12th China Employer Brand Conference. More than 60 media covered the event with interviews, reports and livebroadcasts.
In the morning, Huang Weilai, formerpresident of Occupation magazine run by the Ministry of Human Resources and Social Security and initiator of China Employer Brand Forum, delivered a speech on behalf of thesponsor. Zhu Yongguo, Director of CUEB Human Resources Department, professor and scholarof employerbrand, and numbers of enterprise executives made speeches onthe topic of the development trends of domestic and foreign employer brands. Experts such as WangTongxun,founder of China Talents, shared his opinion on the topic of "The Big Data is the Gray Rhino(the potential danger)", "Artificial Intelligence and Talent Cultivation" and "The Current Situation and Trend of the Big Data of Human Resource Application." Other experts participated in the summit dialogue entitled "New Challenges for the Big Data of Talents and Human Resource Management", including Feng Xiliang, Deanof SchoolofLaborEconomicsofCUEB. During this period, the inauguration ceremony of the HR Big Data Alliance was held.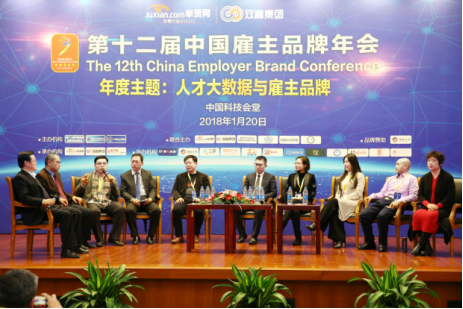 In the afternoon, Xu Bin, Director of CUEB talent department and well-known management expert made a wonderful and profound speech on "How to Hunt Top Talents through Employer Brand?" Experts such as Wang Shangfeng from Juxian.com shared their opinions on the topic of "Gather the Talents You Hunt," "Motherland is the Best Employer Brand", and "How to Manage Talents through Media Industry". Chen Shujie from CUEB and other experts made brilliant speeches on the theme of "Management and Innovation of Employer Brand in the New Era". Thewell-known economist Kong Jingyuan and others shared themes such as "Supply-side Reform and Chinese Management and Brand Upgrade," and "Employer Brand and Team Execution".
Finally, China Employer Brand Awards were announced at the annual conference, including "2017 China's Best Employer", "2017 China's Outstanding Manager", "2017 China's Best Entrepreneur Supporting Staff Development", "2017 China's Most Socially Responsible Entrepreneur", etc. More than ten leaders and guests such as Zhu Yongguo awardedthewinning corporationsand individuals. Prof. Zhu Yongguo made a closing speech.
As a non-profit employer brand research and promotion platform, the China Employer Brand Conference has been successfully held for 12 sessions since 2006. It aims to promote corporate human-centered development through employer brands and help companies facilitate employee development and takemore social responsibilities to gain social respect. The vision of the annual conference is to make more Chinese companies become respectable and outstanding employers.