CUEB Wins 1st Prize in Final of National Business Simulation Competition in 2018
Author:Translated by Wang Qi,Proofread by Li Bing
Editor:Wan Chenfang
Publish:2018-05-14
Size:TTT
On April 27th, the 9th National Universities Business Simulation Competition and the 17th National Final of Business Simulation Competition of MBA Business Schools was held at the Southwest University of Political Science and Law. The team OMG-CUEB was made up of Wu Kaiyu, Zhang Wentian, from the School of Statistics and Liu Rong from the College of Business Administration. The team was led by Tu Jianmin and Wang Zhenjiang, teachers from the College of Business Administration. The team won the first prize in national final.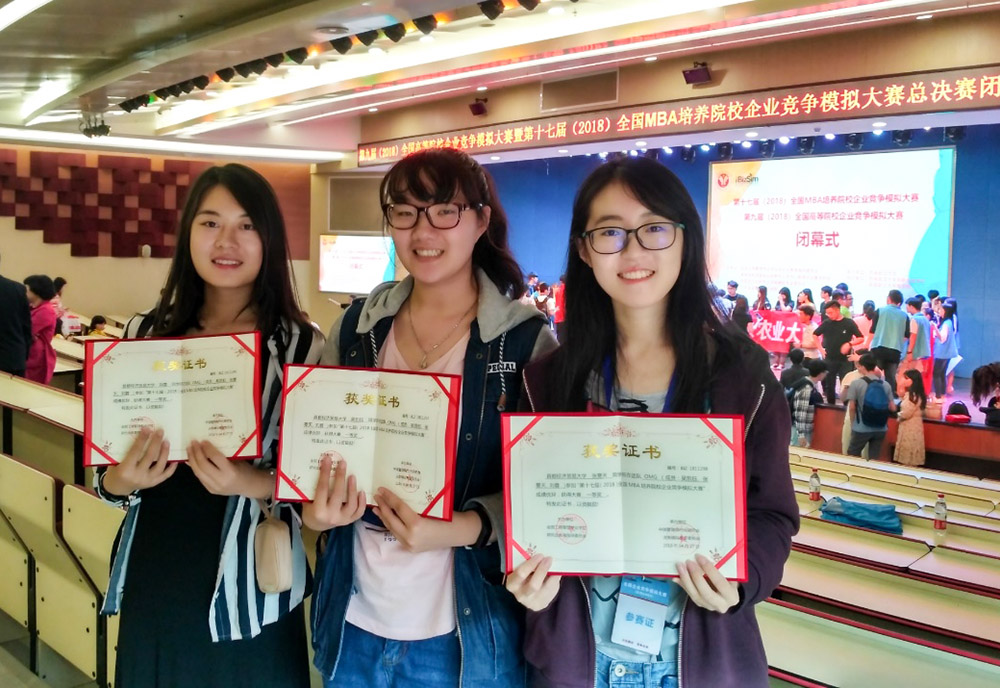 The competition attracted 2,400 teams from 200 universities, such as Beijing University of Posts and Telecommunications, Southwest Jiaotong University, Anhui University, Jiangxi University of Finance and Economics, etc. After fierce competition in the preliminary, quarter- and semi-finals, 80 teams were eventually selected to enter into the finals.
The business simulation competition integrated the element of "Internet plus". In a simulated business environment on an Internet platform, students practiced the business decision-making and launched team competition. Through the comprehensive and flexible use of knowledge of administration, such as production operations, marketing, financial accounting, and strategic management, students strive to make the correct decisions of business and to achieve the enterprise's strategic goals.
After the fierce competition, the team OMG-CUEB finally won the 1st prize in the national finals, ranking the 15th in the MBA category. The team, made up of Wu Lan, Xue Jia'an, and Zhang Yuchen, and the team, consisted of Hong Chengyi, Xing Lei, and Leng Jing won the 2nd prizes in national competition; the team, made up of Wang Jun, Zhang Guangyao, and Liu Yihan won the 3rd prize in the national competition.
While leading the teams, Tu Jianmin and Wang Zhenjiang also held discussions with the directors of the Organizing Committee and team leaders of other universities.