Chinese Consumer Confidence Index for Q1 Released
Author:Translated by Zhong Peipei Proofread by Li Bing
Editor:Zhong Peipei
Publish:2016-04-18
Size:TTT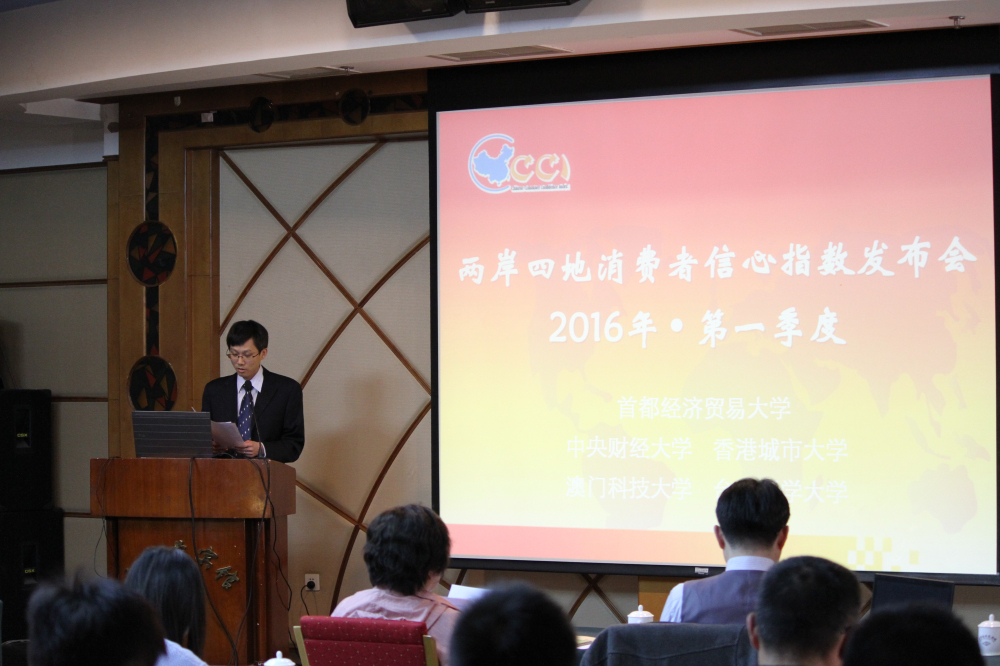 On April 8th, the press conference of Chinese Consumer Confidence Index (CCCI) for the first quarter of 2016 was held in Beijing. The survey and analysis were jointly completed by five universities across the straight, namely School of Statistics, CUEB; School of Statistics and Mathematics, Central University of Finance and Economics; Statistical Consulting Unit of Department of Management Sciences, City University of Hong Kong; Institute for Sustainable Development, Macao University of Science as well as Technology and Big Data Research Center, Taipei Medical University.
In the first quarter, the overall consumer confidence index of the Chinese mainland had a slight drop for the first time after five consecutive quarters above the optimistic threshold. The indexes for economic development, employment and life standards remained over 100, despite marked drops, indicating consumers' optimistic view on the three aspects. The confidence in commodity prices climbed back moderately, and consumers remained optimistic about life quality and see an upward trajectory. There was a significant rise in the confidence to buy a house and to invest.
Thanks to the government's supply-side structural reforms for economic structure transformation and the proactive approaches to defuse potential risks, the economy managed to operate in an appropriate range, despite the complex and volatile economic environment at home and abroad as well as the ongoing economic downward pressure.