CUEB and University of Rome Tor Vergata Sign Inter-university Cooperation Framework Agreement
Author:Translated by Yan Run Proofread by Li Bing
Editor:Zhong Peipei
Publish:2016-05-17
Size:TTT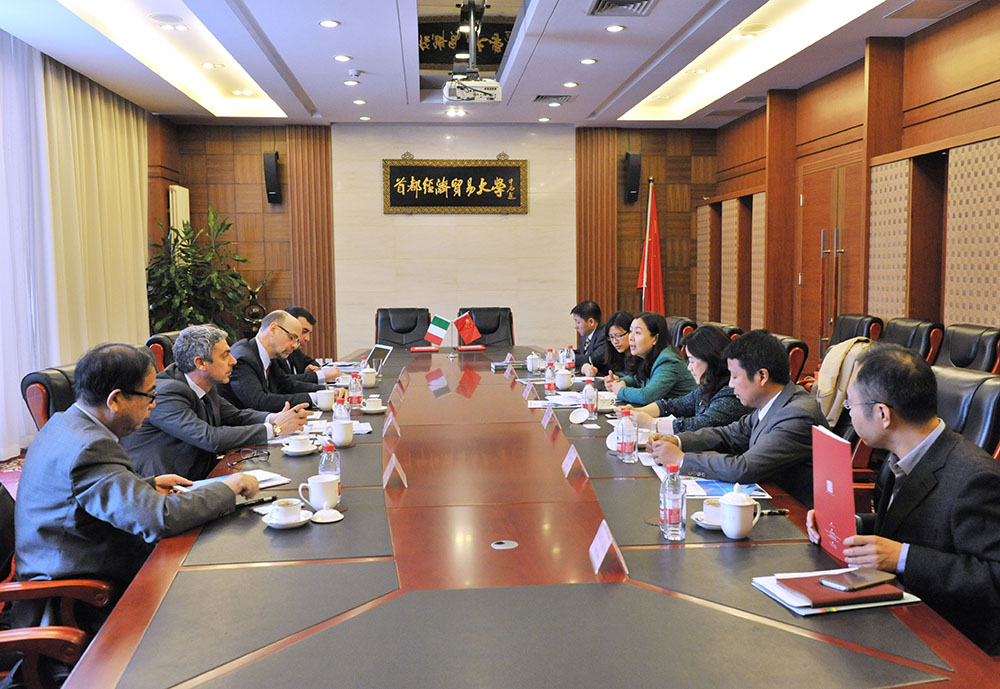 On May 12th, CUEB Vice-president Xu Fang met with University of Rome Tor Vergata delegation of Vice President Gustavo Piga for public and international relations, Professor Andrea Appolloni of School of Economics, Damiano Pinnacchio of International Office and Uni-Italia Head of China Xing Jianjun. At the meeting Vice-president Xu, on behalf of CUEB, signed inter-university cooperation framework agreement with University of Rome Tor Vergata.
Xu extended warm welcome to the delegation and said that the year 2015 witnessed preliminary communication with Professor Gustavo Piga on cooperation. In December 2015, Professor Andrea and Xing Jianjun visited CUEB and exchanged ideas with heads from CUEB School of Economics, School of Business Administration and School of Safety and Environmental Engineering on students and faculty exchange as well as academic research cooperation. She also mentioned that, since University of Rome Tor Vergata has respective strengths on disciplines and research programs such as European economy, EU policy studies, European laws and so forth, CUEB is looking forward to cooperation with the University on students exchange and joint-education, faculty exchange, and collaborative innovation on academic research.
China and Italy are both countries with profound histories and prosperous cultures, Professor Gustavo hoped that CUEB and University of Rome Tor Vergata could harness respective strengths in student and faculty exchange, academic research cooperation and so forth, deepen pragmatic research and work out a win-win cooperation model. Professor Gustavo also stressed that University of Rome Tor Vergata highlights international development and inter-disciplinary program advancement and is ready to facilitate specific cooperation programs with CUEB related schools as soon as possible based on the inter-university cooperation agreement.
Afterwards, Lang Lihua, dean of CUEB School of Economic, Liu Xuexin, dean of CUEB School of Business Administration, and Zhang Shijun, dean of CUEB School of Law, briefly introduced international development and cooperation programs of respective schools. The two parties exchanged ideas and achieved cooperation intention on specific programs such as student exchange and joint-education, faculty visiting and academic research.