CUEB Holds 2016 LOTTE Scholarship Awarding Ceremony
Author:Translated by Zhang Yijie, proofread by Liang Jue
Editor:Yang Jun
Publish:2016-11-07
Size:TTT
On October 26th, 2016 LOTTE Scholarship Award Ceremony was held in Room 220, Mingbian Building of CUEB. Park Shi Hoo, General Manager of Lotte Mart Co., Ltd, Sun Shanxue, Deputy Secretary of Party Committee attended the ceremony.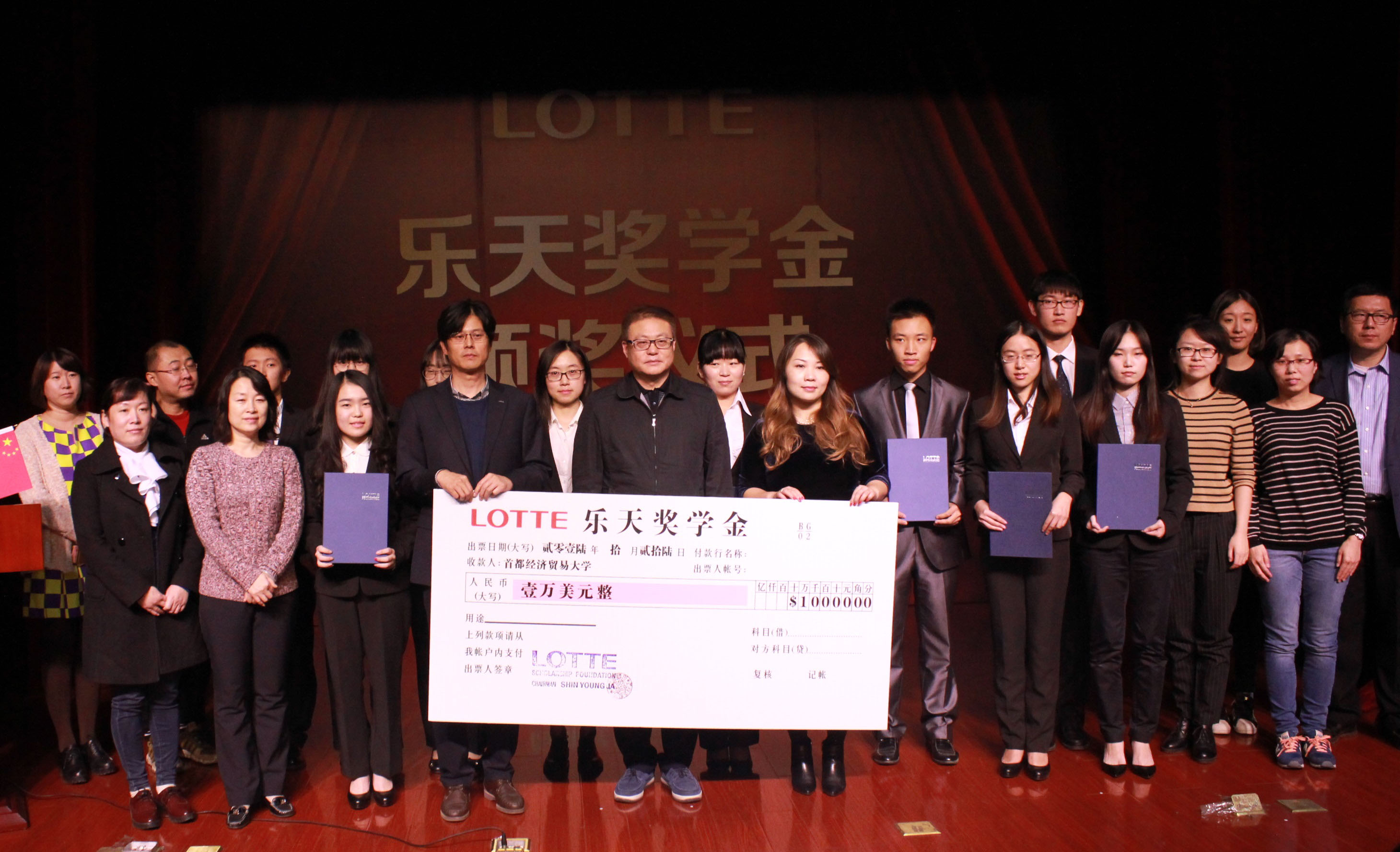 In his speech, Park expressed LOTTE's great interest in education, congratulated the award-winning students, and conveyed his hope for the students. Meanwhile, he wished to further cooperation between LOTTE and CUEB.
Sun Shanxue expressed his sincere gratitude to LOTTE, which set up the scholarship and offered long-lasting support to the development of university students. He mentioned that in recent years, the total amount of scholarships at CUEB had added up to more than 6 million yuan, covering more than 3,500 students, and hoped that there would be more outstanding students to win scholarships. At the same time, he said that CUEB was on the new starting point of its 60-year history, looking forward to cooperating extensively with all sectors of society and making greater contributions to education.
In the warm applause of the students, this event came to the awarding session. Mr. Park awarded the winners of LOTTE Scholarship. Zhang Zhaogeng, from School of Finance, made a speech as the representative of the award-winning students. He introduced his study, practice, research and award-winning experience, and expressed his gratitude to LOTTE for its support for students and sense of social responsibility. He also expressed that he would work harder, develop abilities and contribute to the university and society in return.
At last, university leaders, guests and the representatives of the award-winning students took pictures together.