Student Exchange Activities between CUEB School of Economics and University of Toronto
Author:Translated by HuaZexun Proofread by Liang Jue
Editor:Yang Jun
Publish:2017-06-13
Size:TTT
On June 1st, over 30 students from University of Toronto in Canada visited CUEB. The students exchanged ideas on higher education in both countries with faculty members and students from CUEB School of Economics, and had a taste of colorful CUEB campus life. 11 undergraduates from School of Economics paired with visiting students for exchange, along with them were Zhang Weiguo, teacher from University of Toronto, Wang Yuting, project manager from CUEB School of International Education and Zhao Lingfei, student counselor from CUEB School of Economics.

The event was divided into two parts, namely indoor discussion and campus tour. At the reception, Zhao Lingfei welcomed the delegation on School of Economics' behalf, and made a brief introduction of CUEB and SOE. After that, Zhang Weiguo introduced the teaching environment of the University of Toronto with two videos, highlighting the university's feature of "No boundary", and invited students to share their thoughts. Zhang Shaoxue, a senior undergraduate from School of Economics shared her own story and introduced Chinese higher education model. Yu Siqi, a sophomore, arranged grouping activities as the organizer.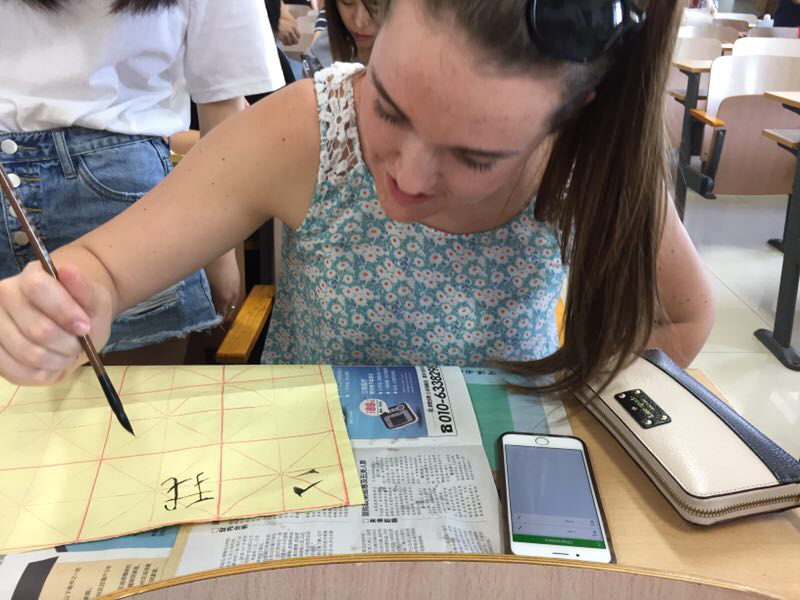 While exploring campus life, students had a great time talking and appreciating unique Chinese campus culture through calligraphy, snack tasting and badminton games. Students of Group 1 discussed the differences in education and food culture between the two countries. Some students of Group 2 had many indoor activities including paper-cutting, soft brush calligraphy, Chinese chess, etc., and others played badminton outdoors. Students of Group 3 visited Camel Time Cafe and tried coffee making. Students from University of Toronto were deeply attracted by the entrepreneurship programs and amazed by the CUEBers' entrepreneurial drive. Students of Group 4 had outdoor activities and discussed about living environment during the break. The students also had a tour of university history museum, which was one of the favorite activities.
After the exchange activities, Zhang Weiguo and Zhao Lingfei made remarks to sum up the day respectively. Students expressed their wish to participate in such activities in the future, which allowed them to see the diversity of education models and cultures and to make new friends.
As China's higher education is becoming more international, CUEB will have more international exchange programs. School of Economics will continue to improve students' international communicative competence with more opportunities to communicate and improve language skills, in a bid to prepare the students to become international citizens and support CUEB's international education approach.