CUEB Holds 40-year Anniversary of Reform & Opening-up, Class 1981 & 1982 Alumni Homecoming Assembly
Author:Translated by Zhang Juan,Proofread by Li Bing
Editor:Wan Chenfang
Publish:2018-10-29
Size:TTT
On October 21st, with the theme of "Youth, Growth and Diligence", the forty-year anniversary of reform and opening-up, and the alumni homecoming of the Class of 1981 and 1982 was held in Zhuoyu Lecture Hall. More than 300 alumni from all over China attended the assembly to revisit their beautiful memory on campus. Shen Xiaojing, Deputy Party Secretary of Beijing Wuzi University, Wang Wenxuan, student of the Class of 1998 and Vice Chairman of CUEB Alumni Association, representatives of retired CUEB leadership, representatives of teachers and students, Feng Pei, CUEB Party Secretary, Fu Zhifeng, CUEB President, Ding Lihong and Wang Chuansheng, CUEB Vice Presidents, Tang Xing'an, Secretary of Commission for Discipline Inspection, Yu Zhong, member of CUEB Party Standing Committee and Director of Organization Division, and Xing Qi, member of CUEB Party Standing Committee and Director of United Front Work Division, attended the assembly. The assembly was presided over by Pu Ye, former teacher of Beijing Institute of Economics, and Yuan Jiafang, alumnus of the Class of 1982 and teacher of Beijing Institute of Finance and Trade.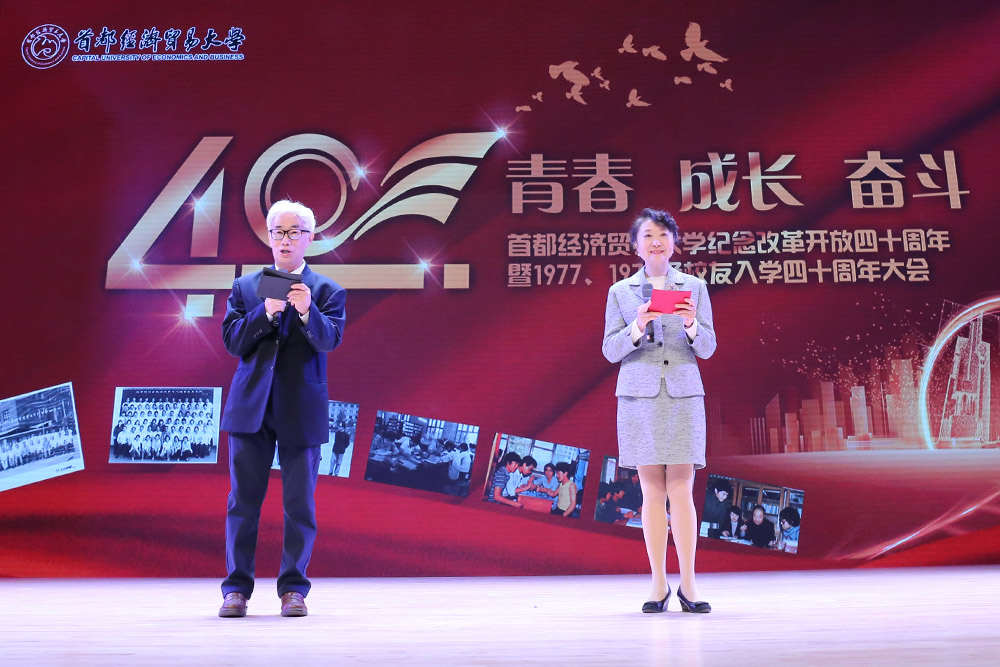 The ceremony started with the dance Yellow River by CUEB dance troupe, which was then followed by the commemorative video Youth, Growth, Diligence.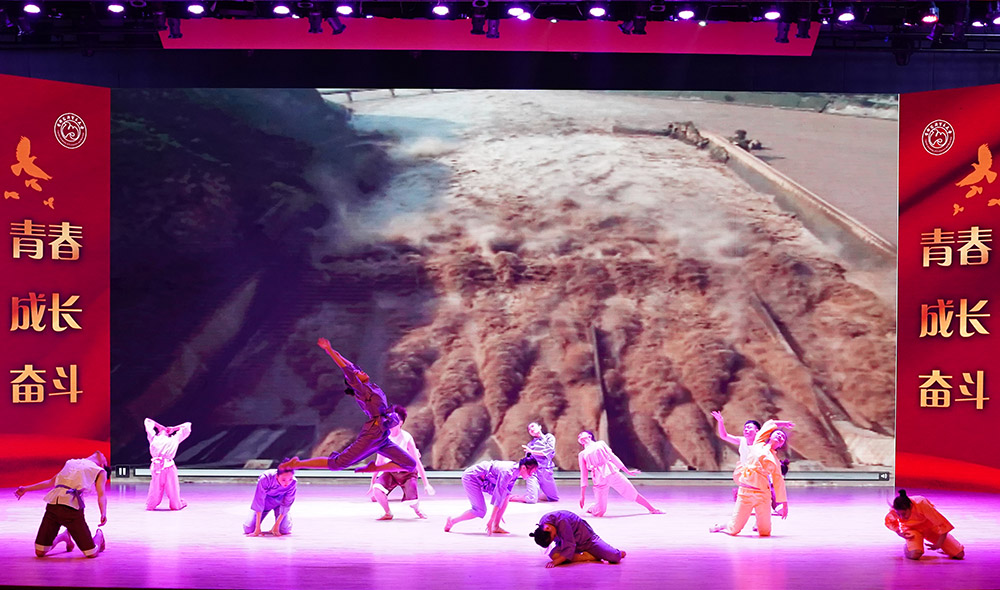 Feng Pei said that our youth age coincided with reform and opening up; we bore witness to country's historic transformation; our personal endeavors were vivid epitome of China's painstaking efforts to rejuvenate; our fates were closely linked with our motherland the nation's destiny. Feng Pei noted that the present alumni have witnessed the development of China, and hoped that today's CUEB students could learn from these alumni to stay true to their original aspirations and keep their mission firmly in mind, shouldering the responsibility of the great rejuvenation of the Chinese nation.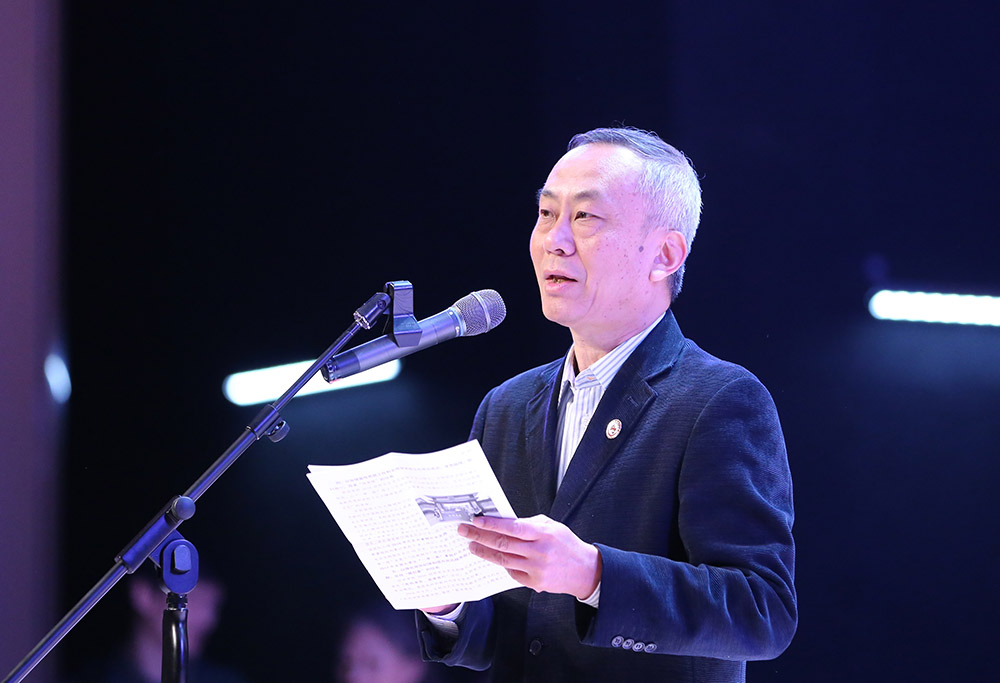 With the theme of "Youth & Growth" and "Diligence & Future", nine alumni representatives were invited to share their learning experiences, campus stories and work experience.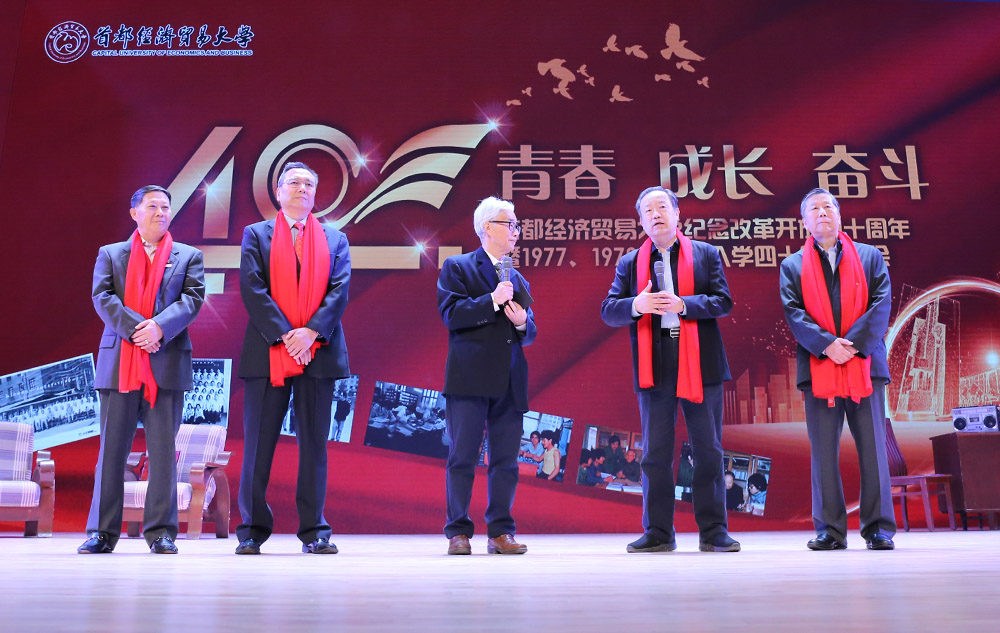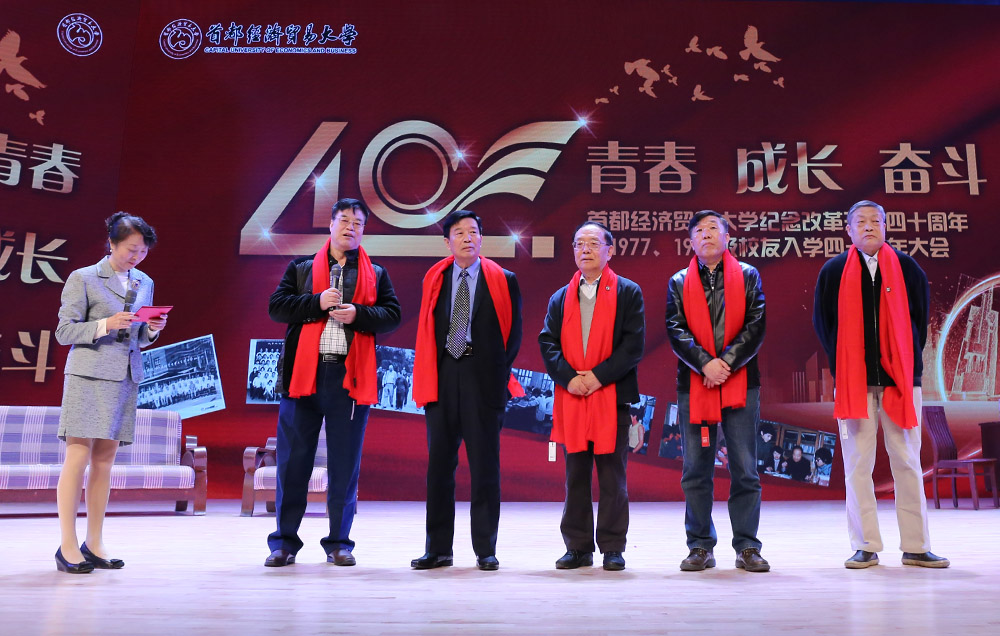 Alumni representatives then presented bouquets to former CUEB leadership and teachers to pay tribute to them.
Alumni of the Class of 1981 and 1982 would gift CUEB a camel sculpture which represents the CUEB spirits to express their gratitude for Alma Mater. On behalf of the students, the liaison of each class expressed their sincere wishes for the bright prospects of CUEB and China.
In the end, CUEB dance troupe presented the graceful Dunhuang dance Miaoyinfantan , which symbolized that CUEB would nurture more brilliant students to pursue Chinese Dream under the guidance of Camel Spirit along the new Silk Road.