Party Secretary Feng Pei Talks with Freshmen Gift Winners
Author:Translated by Wang Qi,Proofread by Li Bing
Editor:Wan Chenfang
Publish:2018-11-26
Size:TTT
On November 20th, Feng Pei, Party Secretary of CUEB, had a face-to-face talk with two gift winners— blue gift winner Wei Zihe, sophomore from the International School of Economics and Management, and purple gift winner Wang Ziyi, sophomore from the College of Business Administration.
Wei and Wang introduced their study, life and extracurricular activities during their first year at university. They noted that the freshmen year was of rapid growth and enrichment. They developed friendship with teachers and classmates, learned a wealth of professional knowledge, and gained more opportunities to put what they learned into practice.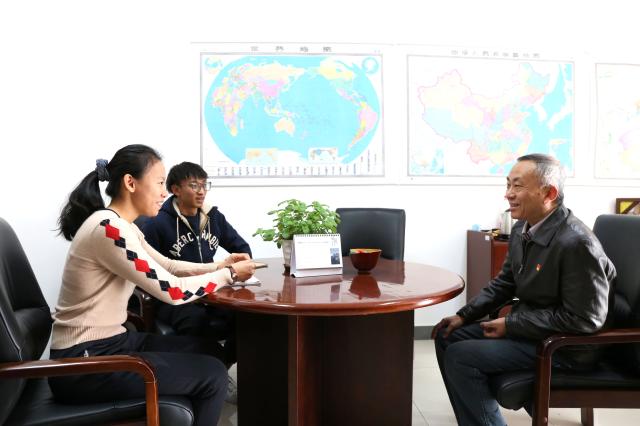 Feng Pei shared his own growth experience with them and noted that logical thinking was of great significance in study. He suggested them read more related books to enhance the logic of thinking. Feng Pei also proposed an easy practice method after Wang Ziyi asked how to be a logical speaker. That was when we came across a fresh thing, we could try to came up with ways to introduce it to others. With practice, one would gain experience and be more aware of patterns of speech, which will enable him or her to speak in a more logical manner. Regarding internship, Feng Pei suggested that the positions should be relevant to their majors and be consistent and progressive through semesters. Feng Pei also told them to build their strengths in the job market, improve themselves with the principle of "Develop skillsets that others don't have; better skillsets that others have, and excel at skillsets that others are good at." Feng Pei also encouraged them not to be afraid of making mistakes. University is the place to try various possibilities.
The two students expressed their appreciation to receive the rainbow gifts as freshmen. They truly felt the kindness and wisdom of Feng Pei and learned to set a clearer goal in the future, and they would strive to achieve the unity of knowledge and practice to make due contributions to university development and national rejuvenation.