MOU Signed Between CUEB and University of New Mexico
Author:Translated by Wang Tongkang Proofread by Li Bing
Editor:
Publish:2015-12-04
Size:TTT
On November 2nd, Wang Jiaqiong, President of CUEB, met with Robert G. Frank, President of University of New Mexico (UNM), Nicole Tammy, Director of Global Education Office, Craig White, Interim Dean of Anderson School of Management, and Joseph L. Cecchi, Dean of the School of Engineering among others. Two Memorandums of Understanding were signed between the two sides by Mr. Wang and Frank. Sun Haozhe, Vice President of CUEB, hosted the symposium and signing ceremony.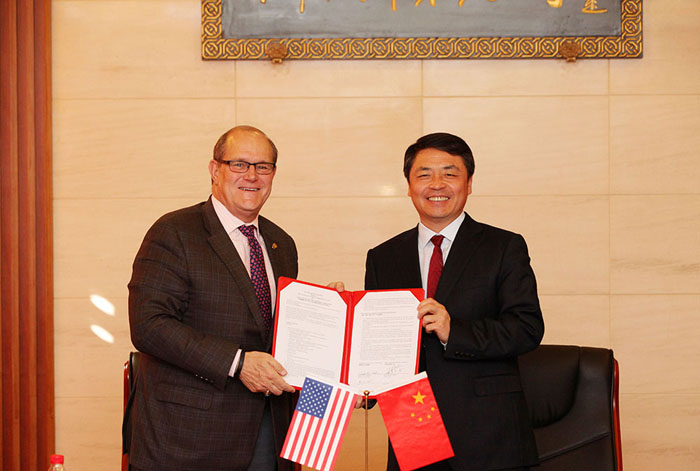 Wang Jiaqiong expressed his sincere welcome to Robert Frank and his colleagues, and made a brief introduction of CUEB. He said that with history of nearly sixty years, CUEB is committed to international cooperation and exchange programs with high level universities abroad. University of New Mexico was an excellent public research university of America. He would like to see, based on staff and students exchanges, strengthened academic cooperation and exchanges on the experiences of industry-university-research synergy.


Robert Frank extended his gratitude to CUEB for the warm reception and introduced the basic information and academic edges of UNM. He underlined that UNM attached great importance to the cooperation with Chinese universities and would like to carry on with proper cooperative projects with CUEB as soon as possible after the establishment of the inter-university ties.