CUEB Teachers and Students Observe Dragon Boat Festival with the Elderly in Community Nursing Home
Author:Translated by Zhong Peipei Proofread by Li Bing
Editor:Zhong Peipei
Publish:2016-06-22
Size:TTT
/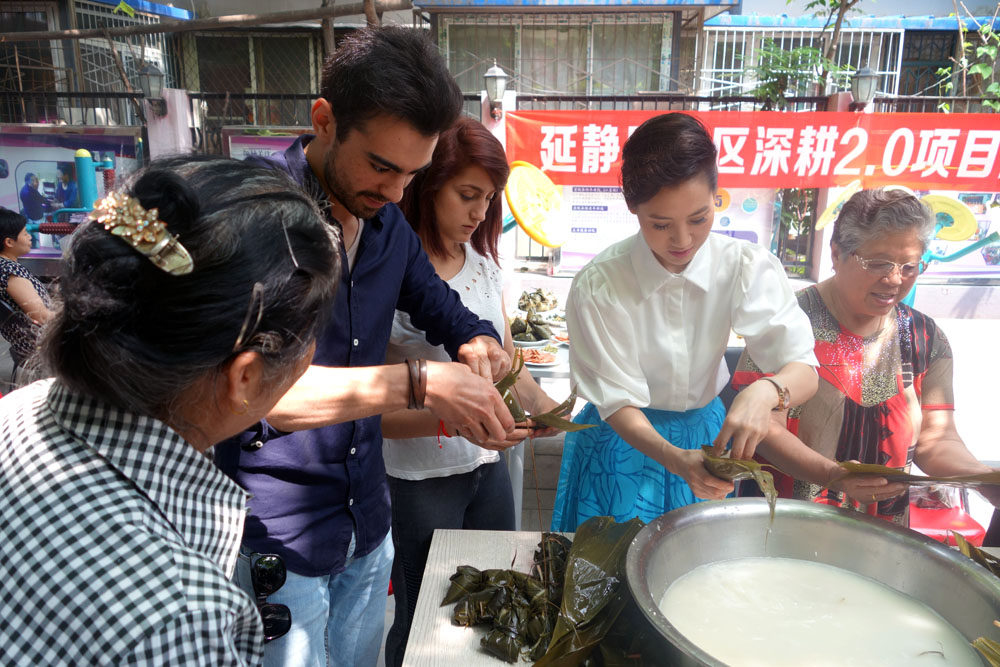 On June 8th, the day before Dragon Boat Festival, over 50 teachers and students from CUEB School of International Education came to Aiwan Sangyu Nursing Home in Yanjingli Community, Chaoyang District, and celebrated the festival with the elderly and community residents.
The celebration stared at 9 am with an ethnic song "reed catkins" and other numbers by Beijing Light Cavalry Philharmonic Chorus (BLCPC). Later, community volunteers presented programs like Peking opera, other traditional Chinese operas, and allegro, receiving warm applause from the audience. Beijing Tianqiao acrobatics by masters of traditional Beijing unique skills were so fantastic that the show aroused waves of exclamation, showcasing the profoundness of traditional Chinese culture. Overseas students from Korea staged an impromptu dance, imbuing freshness and vitality into the celebration.
After the feast of traditional Chinese culture came the climax of the celebration---the overseas students communicating with the elderly and learning the skills of making zongzi. All the teachers and students showed keen interest and joined the zongzi-making competition. The overseas students, who were the most excited, made zongzi of various shapes and had a close contact with traditional Chinese culture. The participants then enjoyed zongzi they made together. In the end, the community presented the overseas students with Peking opera masks and sachets as gifts. CUEB teachers and students also took photos with the elderly and community residents to mark the occasion.