Party Secretary Feng Pei Meets with Former French Minister of EconomyEdmond Alphandery
Author:Translated by Lu Ni, proofread by Zhang Yijie
Editor:Yang Jun
Publish:2016-12-05
Size:TTT
On December 1st , Edmond Alphandery, former French Minister of Economy, president of Egie Strategy Committee of GDF Suez and European chief adviser of Nomura Securities, attended the Financial Risks Summit Forum at CUEB on invitation. Feng Pei, Secretary of the Party Committee of CUEB, met with Edmond Alphandery in Hechang Hall. The two sides held friendly discussions on strengthening mutual understanding, expandingwin-win cooperation and so on. Vice President Xu Fang also attended the meeting.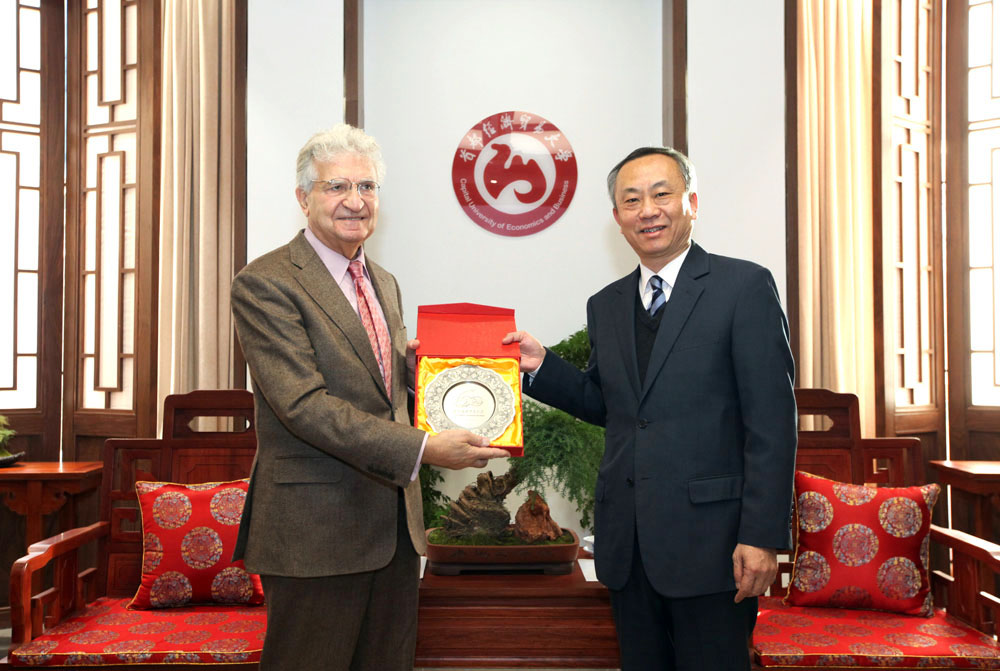 The meeting began with the English promotion video of CUEB, and then Feng on behalf of CUEB, extended his warm welcome and briefly introduced CUEB to Edmond.
Feng said, CUEB is home to4 first-class disciplines where it can offer doctoral degrees, namelyApplied Economics, Management Science and Engineering, Business Administration and Statistics, and it also has corresponding postdoctoral programs.CUEB is a key university of the Beijing Municipality and one of the key universities in Beijing and nationwide. Because of Edmond's knowledge in finance and safety engineering, Feng introduced some Finance-related majors and the School of Safety and Environmental Engineering, which hasthe longest history at CUEB. Hehoped that the two sides could further cooperation in regional economic development and financial risks research, and the building ofthink tanks as well. He also hoped for stronger cooperation in energy security, students' internship programs and teachers' research programs. Feng looked forward to more visits by Edmond to CUEB. Feng also mentioned CUEB's logo, which is based on the image of a camel, representing both the ancient Silk Road and the current "Belt and Road" initiative. Feng hoped that the spirit of ancient business and trade could be carried forward through win-win cooperation.
Edmond expressed his thanks for CUEB's hospitality, and talked about his deep friendship with China. He said, as China becoming more important on the global stage, he closely followed China's economic and financial policies and development, and conducted related researches. He believed that deeper exchanges between China and Europe would contribute to better mutual understanding and development in the context of globalization. He acknowledged the significant contribution that CUEB has made to China's economic development by graduating a huge number of economic and financial professionals. Edmond said that he would discuss with students and teachers on the development of Europe and world in his lecture. Finally, he hoped that the two sides can further cooperation in economy and safety engineering for better development.
After the meeting, Edmond delivered a speech titled "Eurozone after Brexit: Quantitative Easing, Deflation, and Japanese Experiences" on the forum.