President Fu Zhifeng Meets Delegation of Rutgers, State University of New Jersey
Author:Translated by HuaZexun, Proofread by Liang Jue
Editor:Yang Jun
Publish:2017-03-20
Size:TTT
On March 5th, Fu Zhifeng, president of CUEB, met with Eric Garfunkel, vice president for International and Global Affairs of Rutgers, the State University of New Jersey (hereinafter referred to as Rutgers University) and Jeff Wang, special assistant to EVPAA and director of Rutgers China Office. On behalf of the two sides, Fu and Garfunkel signed an inter-university cooperation MOU and held friendly talks on faculty and students' exchange programs, joint education programs, etc.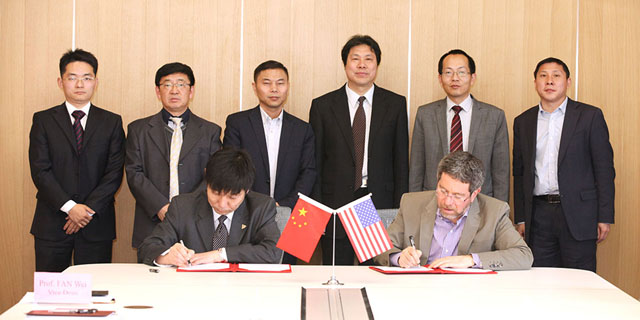 Fu, on behalf of CUEB, extended warm welcome to the delegation of Rutgers. He introduced that as a key university of the Beijing Municipality, CUEB stood out for its high quality of students and impressive employment rate. In recent years, progress has been made in various aspects, including cultivating globally competitive talents, internationalizing faculty, building global academic presence, etc. CUEB looked forward to deepening win-win cooperation on the basis of existing exchange programs. Fu stressed that joint training programs in shared superior disciplines through dialogues would produce more talents of international competitiveness and enhance CUEB's capacity in international school-running.
Eric Garfunkel thanked CUEB for its hospitality. He said that as the largest comprehensive public university with the longest history in New Jersey, Rutgers University had established cooperative ties with over 80 Chinese universities, with approximately 1,500 Rutgers alumni in China. Eric Garfunkel highly appreciated the CUEB's all-English programs of professional courses, undergraduate and graduate education, saying that he would encourage more Rutgers students to participate in short-term and long-term exchange programs in CUEB and welcome more CUEB student exchanges and faculty visits.
Feng Xiliang, dean of CUEB School of Labor Economics, expressed his intention to explore possibilities regarding joint education programs in human resource management with School of Management and Labor Relations of Rutgers University. Zhang Guoshan, dean of School of Urban Economics and Public Administration, and Pan Na, head of the Department of Administrative Management, reported on the studies of 7 students exchanged to Rutgers. Zhu Anbo, dean of School of Foreign Studies, expressed his intention to send selected teachers to take vocational training on language teaching and set up student-exchange programs.
Afterwards, Fu accompanied delegations from Rutgers to visit the Museum of University History.