CUEB Poetry Contest to Promote Traditional Chinese Culture
Author:Translated by Sun Lei,Proofread by Li Bing
Editor:Yang Jun
Publish:2017-07-07
Size:TTT
On June 1
,
the CUEB Poetry Contest kicked off in Zhuoyu Lecture Hall of Boyuan Building. The event featured four sessions----Life or Death (the elimination), Rise from Ashes (the repechage)
,
Head to Head (the challenger) and Fight for Throne (the final). The competition was honored with the presence of Mr. Sun Shanxue, Deputy Secretary of CPC CUEB Committee.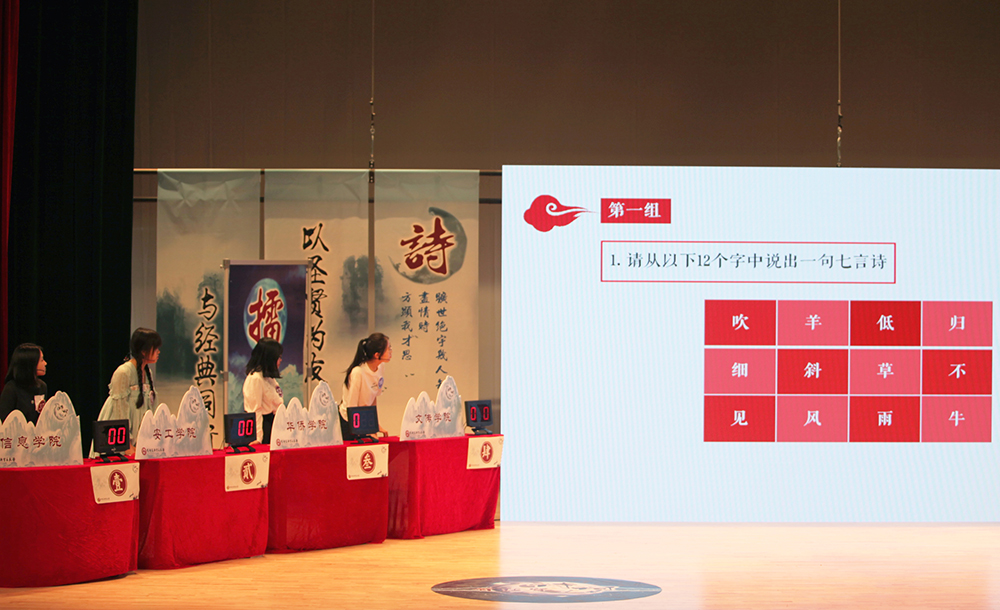 Among the jury were Xie Yan, lecturer with the School of Chinese Language and Literature of Beijing Normal University, who was also one of the judges for CCTV Chinese Poetry Competition, Zhang Xiaole, professor of Chinese literature at the CUEB School of Culture and Communications, Sun Guoping, member of the Aiwan Poetry Club under CUEB Senior Teacher Association.
With opponents and turns decided by lot, 8 out of the 16 teams representing respective schools advanced into the next round after fierce PK while the defeated ones were up for the revival round. Several teams rotated the No.1 spot and Liu Yujia, a student from the School of Overseas Chinese, managed to impress all those present by defeating four challengers in a row. Contestants from the School of Marxism put up an aggressive fight and School of Foreign Studies pulled off an amazing upset. The latter emerged as the winner of the revival round as expected, overtaking the School of Public Finance and Taxation to be qualified for the final.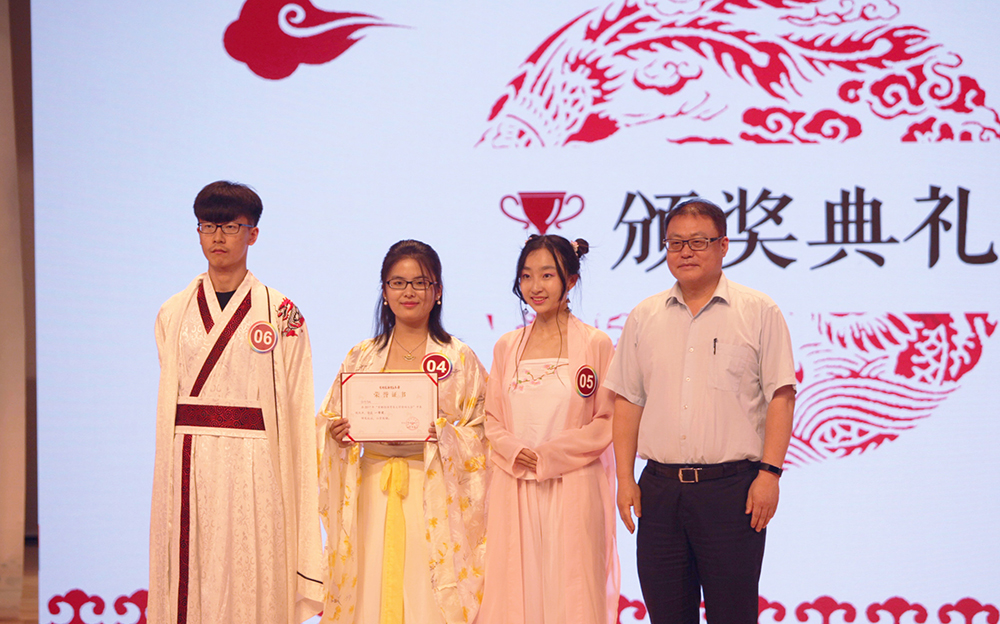 The championship scramble was exceptionally intense as all the competitors and their cheering squads were really neck and neck after all the questions. At last representatives from the School of Foreign Studies, and the School of Economics moved into the last session along with the team of the School of Statistics who nailed two straight questions under enormous pressure.
In the last session of Floating Blossom Game, all the players had to recite verses with designated words—dream (as in dream of national rejuvenation), moon (as in fairy Chang'e flying to the moon and spaceship Shenzhou shooting to the sky) or blossom (as in Floating Blossom Game). All the contestants were applauded by the audience for their abundant knowledge and quick wit. In the end, the team of the School of Statistics claimed the title.
During the event,retired teachers of the poetry club performed a recitation called Soul of Fall, featuring a medley of classical Chinese poems, presenting an audio-visual feast to all the students and teachers.
Xie Yan commented on the competition afterwards. He spoke highly of the students for their love of poetry and their eidetic memory. He also encouraged all the students to stay devoted to poetry, through which they can learn more about the lives of our ancestors, about culture and knowledge, about ethics and aesthetics. It is also a great path to open up our lives, shape our personalities and sublime our souls.