Vice President Sun Haozhe Leads Delegation to Three High Level American Partner Universities
Author:Translated by Dong Li,Proofread by Li Bing
Editor:Yang Jun
Publish:2017-10-16
Size:TTT
From October 24th to 29th, a CUEB delegation led by Vice President Sun Haozhe visited University of New Mexico (UNM), Arizona State University (AST), and Cleveland State University (CSU), a partner of CUEB in running a Confucius Institute. The trip aims to further collaboration with high-level American universities in international economic and management talents joint education programs, academic exchanges, joint scientific research, etc.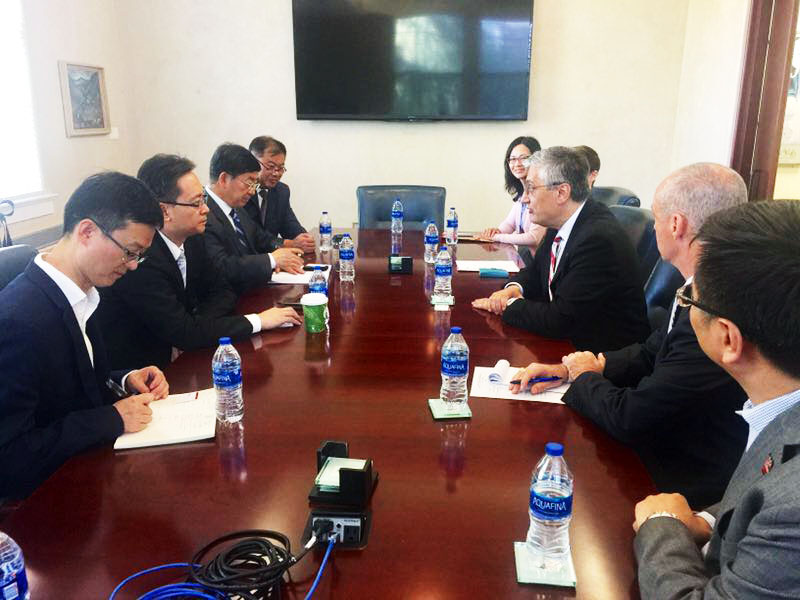 Interim President Prof. Chaouki Abdallah and Interim Provost Prof. Craig White from UNM extended warm welcome to the delegation. He Li, Deputy Director of College Affairs in Overseas Chinese College, reached an agreement with Business School of UNM on the education plan and launching details of the "2+2" undergraduate dual degree program in business administration (international accounting). At the same time, cooperation agreement is expected to be signed within this year. After that, an array of choices will be available to students in Overseas Chinese College to study in UNM, for instance, short-term exchanges, "3+1+1" undergraduate-graduate program as well as "2+2" double degree program.
Additionally, Zhang Guoshan, Dean of the School of Urban Economics and Public Administration, and Zhang Baoxue, Dean of the School of Statistics, reached a preliminary consensus respectively with Bruce Perlman, Director of School of Public Administration and Phil Ganderton, Associate Dean for Faculty with College of Arts & Sciences, on student exchange and faculty mutual visit. The cooperation framework agreement is expected to be signed in the near future so as to materialize the cooperation programs as soon as possible.

The next stop during the visit was Arizona State University, Deputy Provost Dr. Stefanie Lindquist received the CUEB delegation. During the meeting, the delegation reached a preliminary consensus with Senior Associate Dean Dr. Kay Faris of the Business School on bilateral cooperation programs for accounting, statistics, public administration majors, including undergraduate dual degree programs, undergraduate-graduate programs, and Sino-foreign cooperative education programs. The collaboration agreement concerning business studies "3+1+1" undergraduate-graduate business program is to be singed in the near future, which will facilitate the docking of the two universities' education plans and curriculums. It is also a high-end platform for CUEBers to pursue their studies in prestigious universities across the globe.
During the last leg in Cleveland State University (CSU), CUEB delegation attended China-US Economic and Trade Forum cohosted by CUEB and SCU. The forum pooled financial experts from both universities to deliver great academic reports while sharing their insights with each other regarding hot spot issues like real estate as well as finance in the US and China. Yin Zhichao, Dean of CUEB School of Finance, and two young teachers, Li Xue and Zhang Linwan, made keynote speeches at the forum.
Vice President Sun Haozhe, on behalf of CUEB, delivers opening remarks.
After the forum, Cindy Skaruppa, Vice President of Cleveland State University, and representatives from relevant schools had in-depth discussion with CUEB delegation on joint education. Both sides are committed to strengthening overall inter-university cooperation, leveraging the Confucius Institute as a launch pad. Building on agreements reached by both sides and existing inter-university cooperation, we will put in place related collaboration programs, for example, undergraduate dual degree programs for the following majors, public administration, accounting, statistics, etc., and undergraduate-graduate programs, building a study and communication platform for outstanding CUEB graduates and making CUEB school-running more international. In addition, both sides will continue to make joint efforts to study mega-cities' social and economic development in both counties based on respective disciplinary strength, exploring new possibilities in bilateral and multilateral research cooperation.