CUEB Students Make Great Achievements in 10th Capital University Autumn Athletics Sports Meeting
Author:Translated by Wang Qi,Proofread by Li Bing
Editor:Wan Chenfang
Publish:2018-11-05
Size:TTT
On October 21st, the two-day 10th Capital University Autumn Athletics Sports Meeting drew an end at Beijing Technology and Business University. Qiu Na, team member of CUEB athletic team (from the School of Statistics) won two gold medals. CUEB teams also ranked fourth in the women's 4 x 100-meter relay.
On the afternoon of October 20th, Qiu Na, first-year postgraduate from the School of Statistics, took a comfortable lead in the women's 200-meter event and won a gold medal. This was the first time for Qiu Na to participate in the municipal-level athletics sports meeting as a postgraduate student of CUEB. At the awarding ceremony, He Kai, Party Secretary of the Division of Physical Education of CUEB, as the guest of honor presented the gold medal to Qiu Na.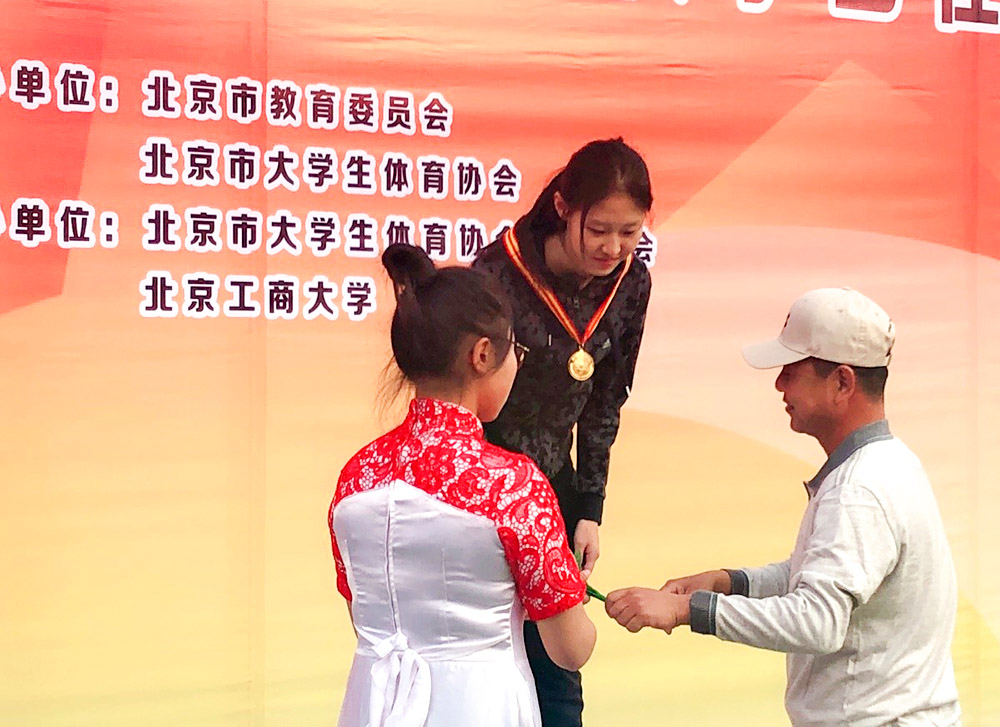 In the following women's 4x100-meter relay, Wang Yue, undergraduate of the class of 2019 from the College of Overseas Chinese, Wu Wenyi, undergraduate of the class of 2022, Jin Qi, undergraduate of the class of 2019 from the College of Business Administration, and Qiu Na, delivered impressive performance despite the bad weather. Qiu Na, running anchor leg, tried her best to make up the ground in the last 50 meters and won the fourth place, only 0.01 second behind the second runner-up.
On the afternoon of October 21st, Qiu Na, despite physical exhaustion for running four times in the last two days, won the second gold medal in the women's 100-meter final with absolute advantage.
Capital Universities Autumn Athletics Sports Meeting is an important event sponsored by the Beijing Municipal Education Commission and the Federation of University Sports of Beijing. This year, a total of 1,600 undergraduates from 59 universities signed up to the sports meeting, which promoted the popularization and improvement of athletic events for students, and enhanced the exchange of sports culture among capital universities.