Delegation of Macau Further Education Counselors Visits CUEB
Author:Translated by Wang Qi,Proofread by Li Bing
Editor:Wan Chenfang
Publish:2018-11-19
Size:TTT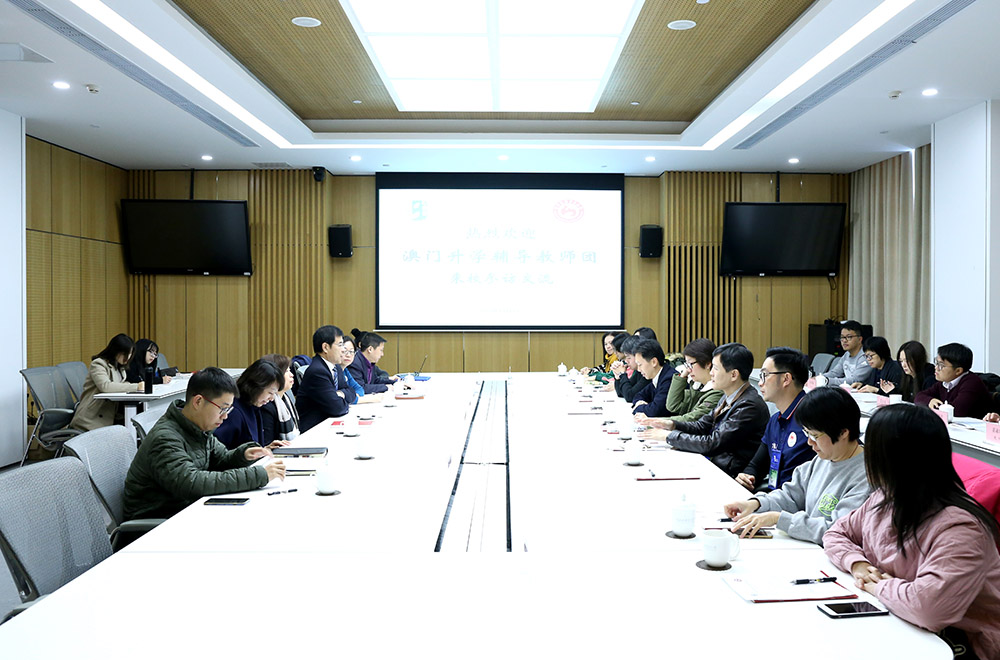 On November 9th, Wang Chuansheng, Vice President of CUEB, met with the delegation of 17 Macau education counselors in Boyuan Building, which was headed by Laing Yi'an from the Government of the Macao Special Administration Region Education and Youth Affairs Bureau.
Wang Chuansheng expressed his sincere welcome to the delegation and gave an overall introduction of CUEB's history, university scale and features. He noted that as a municipal key university, CUEB emphasized its key disciplines like Economics and Management and hoped more outstanding graduates of Macau high schools would join us.
Liang Yi'an then briefly introduced the overall situation of basic education and college entrances of high school graduates in Macau. He pointed out that Economic and Management majors were also popular choices for Macau high school graduates. As the Ministry of Education has provided more than 1,000 exam-exempted admission places for Macau high school graduates, the number of Macau students who chose to study in the Mainland increases by years. He noted that in recent years, more exam-exempted Macau students have been sent to CUEB, and hoped we would see an increase in the future.
Zhang Xueping, Director of the Academic Affairs Office of CUEB, introduced the specialties and undergraduate training mode of CUEB. Xie Haixia, Director of the Office of International Cooperation and Exchanges (Hong Kong, Macao and Taiwan Office), shared CUEB's international approach to education and achievements in nurturing international students as well as cooperation and exchanges with Hong Kong and Macao. Cui Ying, Deputy Director of the Academic Affairs Office, explained the policies related to the recruitment and nurturing of Macao students. Macao teachers then conducted in-depth discussion with CUEB on the learning and living conditions of Macao students in CUEB. The meeting was presided over by Huang Liwei, Deputy Director of the Hong Kong, Macao and Taiwan Office.
After the meeting, the delegation had a tour to the university history museum, the makerspace (a student start-up incubator), the canteens and dormitories. They also had talks with the Macao students representatives, who shared their lives in CUEB.