CUEB's Education Model of Innovation & Entrepreneurship Acclaimed by MOE
Author:Translated by Xin Yue,Proofread by Li Bing
Editor:Wan Chenfang
Publish:2018-12-03
Size:TTT
From Nov. 23rd to 24th, the fifth docking conference of Industry-University Cooperation Education project was held by the Ministry of Education in Beijing. The "Internet + Emerging Engineering Education" and "Industry-University Cooperation Education Through Innovation and Entrepreneurship" project initiated by the School of Information of CUEB came under the spotlight at the conference and were promoted among delegates.
The conference saw 1,500 or so delegates from nearly 500 universities and over 300 companies nationwide participating. Wu Aihua, Grade-2 Inspector and head of the Office of Science and Engineering Education in the Higher Education Department of the Education Ministry, addressed the meeting with a speech named "Promoting Emerging Engineering Education: Way to Invigorate Industrial Transformation." Wu made it clear that the new revolution in science, technology and industry, the development of a modernized economy and proactive policies for strategic competition and higher education reform are in urgent need of new engineering education.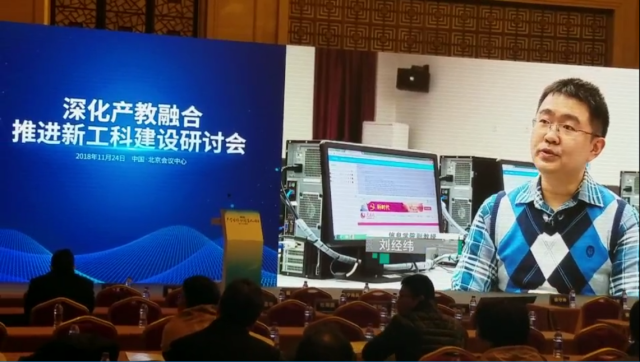 Major achievements in teaching practice shared by Liu Jingwei, Associate Professor of the School of Information, stood out at the conference. Drawing ideas from CUEB's "Teaching Reform Project" and other projects, Prof. Liu tailored his education model "Real-World Following Programming Teaching Plan" for classroom teaching. It was proved that the application of this model in courses like management science and operational research gained positive effect.
The above achievements have drawn wide attention from the Ministry of Education and beyond. On May 9th and 15th this year, Liu Jingwei was invited by the Higher Education Institutions Teacher Online Training Center to train over a thousand university teachers both on site and on line. In Liu's lecture, he gave a holistic report on CUEB's education reform—"Internet + Emerging Engineering Education". Liu also took questions from the audience and received a 100% satisfaction rate according to the onsite reviews.
On Sep. 3rd, in a letter sent by the Traffic Police Brigade of Public Security Bureau at Capital International Airport, CUEB's devotion in the "Police+" project was highly appreciated and the university's future practice in innovation and entrepreneurship teaching would receive renewed support.