Delegation of DePaul University Visited CUEB and Offered a Lecture
Author:Translated by Yan Run Proofread by Li Bing
Editor:Zhong Peipei
Publish:2016-04-05
Size:TTT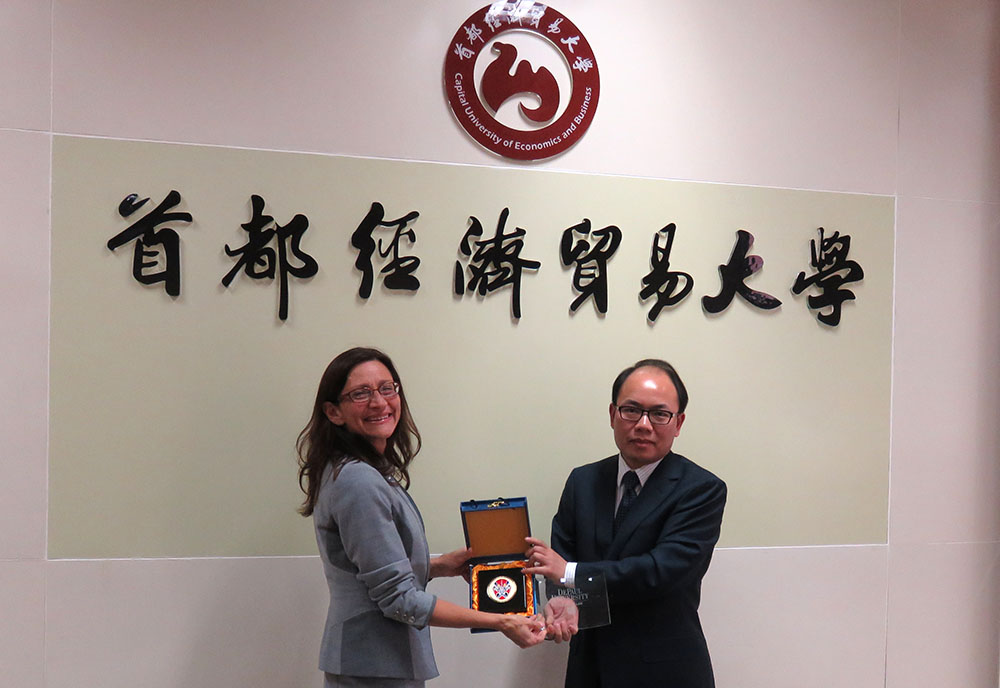 On March 21st, Rosato Perea, dean of DePaul University College of Law, and Jin Huilan, director of College of Law International Admission visited CUEB School of Law. Dean of School of Law Yu Zhong and Deputy Dean Mi Xinli met with the delegation.
First, the two sides had a meeting in the 3rd Conference Room, Bona Building, at which Yu Zhong, on behalf of CUEB, extended warm welcome to the delegation, and briefly introduced faculty, students structure as well as education models of School of Law. Rosato Perea also gave a brief introduction of faculty and disciplinary strength of DePaul University College of Law. She hoped to collaborate with CUEB School of Law since DePaul University College of Law has always been prioritizing international cooperation and communication and has established partnership with many European universities. Next, Mi Xinli briefly introduced cooperation models with other American universities, with emphasis on "4.5" and "3+1" programs for undergraduates as well as "2+1" program for postgraduates. In addition, details about faculty visiting American universities and CUEB summer school were also expounded.
After the meeting, accompanied by several students from CUEB School of Law, Rosato Perea had a tour on the campus, visited the moot court and delivered a lecture on "legal education and legal profession in the United States" in Room 426, Boxue Building.
Rosato Perea illustrated great changes in employment, housing and banking and other areas following the great recession of 2008/2009 through comparison, and analyzed its impact on legal education and profession.
She also pointed out that the major players in the legal profession before the great recession are large law firms, corporate counsel, small law firms as well as practicing lawyers, all paid by the hour. Furthermore, in legal education, most professors were from top universities and adopted Socratic pedagogy based on asking and answering questions which could stimulate critical thinking like that of a lawyer. However, only restructuring legal education could meet legal profession's needs after the great recession. Therefore, she held that legal education should focus on improving students' practicing ability, which includes innovation, flexibility, critical thinking, global vision as well as ability of problem solving and writing.
Jin Huilan, as in charge of international admission of College of Law, presented history and development of DePaul University, as well as the life of Chinese oversea students in DePaul University through video.
Liu Hongming, representative of Chinese overseas students in College of Law, delivered a speech with the theme of "angel of view", with a focus on his own study in the university and professional life as a lawyer, which presented a more humanistic and vivid College of Law.