CUEB Holds 2016 Confucius Institute Council Meeting
Author:Translated by Zhang Yijie, proofread by Lu Ni
Editor:Yang Jun
Publish:2016-10-24
Size:TTT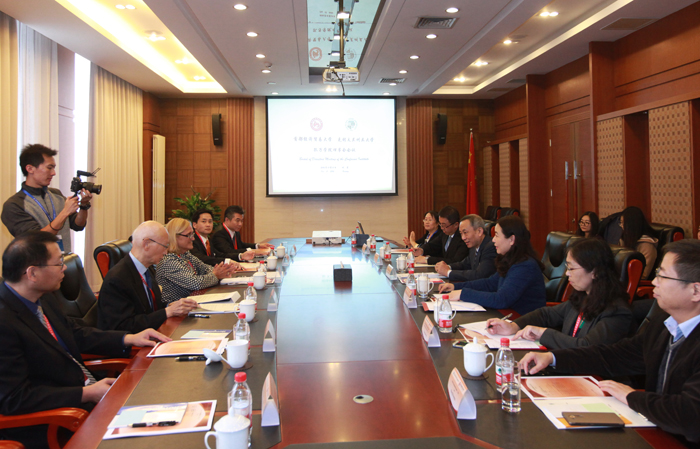 On the afternoon of October 15th, the 2016 Council Meeting of Confucius Institute, which was co-founded by CUEB and U.S. Cleveland State University, was held in Room 407, Bona Building of CUEB. Feng Pei, General Secretary of Party Committee, Yan Yuntai, Director of Confucius Institute Council, Cindy Scoluby, Vice President of Cleveland State University, Xu Yan, Director of the Confucius Institute on the American side, and Zhang Xuhong, Director of the Confucius Institute on the Chinese side attended the meeting. The meeting was chaired by Vice-president Xu Fang.
Feng Pei extended a warm welcome to Cindy and her team in his speech. He pointed out that Confucius Institute Council meeting this year coincided with 60th anniversary of CUEB, which was of special significance. Since the founding of the Confucius Institute in 2008, cooperation and exchange projects between the two schools have become deeper and more diversified. The trade and economic development forum sponsored by CUEB and Cleveland State University of United States will not only enhance the cooperation between two schools, but also will strengthen the exchange and learning between the youth of two schools. Feng Pei stressed that this year was the start of the 13th five-year plan of CUEB, and our school would foster development concept of "innovation, coordination, green, openness and sharing", serve economic development, and enhance our contribution to the economic and social development of the country and Beijing. We hoped that with the joint efforts of the two schools, the new developing patterns of Confucius Institute--joint development, shared ownership, co-management, and sharing the resources could be formed, and we could jointly build a Confucius Institute with business characteristics. On behalf of CUEB, Feng Pei invited Cindy and her team to attend the 60th anniversary celebration of CUEB.
Yan Yuntai submitted a congratulatory letter to the 60th anniversary of CUEB from Jackson Frank, Mayor of Cleveland, Ohio state, United States and Marcia Fudge, a member of U.S House of Representatives. He said he was happy to come to CUEB, and expressed his thanks to the support and help of CUEB to the Confucius Institute.
During the Council Meeting of Confucius Institute, they reviewed, voted, and passed the 2016 Annual Working Report, 2016 Annual Financial Report, 2017 Working Plan and the 2016 Annual Financial Budget Report of the Confucius Institute and other related reports. With a unanimous agreement, the next session of the Council will be held at Cleveland State University in September 2017.
Participants also had a deep discussion on topics including "based on the construction of Confucius institutes, further promote the cooperation and exchanges between the two schools."
The Confucius Institute of U.S Cleveland State University was jointly founded by CUEB and U.S Cleveland State University formally inaugurated on February 28th, 2008, and October 26th, 2009. Since the founding, the Confucius Institute has adhered to its responsibilities to teach Chinese language and spread Chinese culture. It aimed at building itself into a Confucius institute with business characteristics according to course setting of the two schools, and is committed to all-directional and multilevel exchanges and cooperation between the two schools.
Present at the meeting were Wang Shaoguo, Director of CUEB School of International Education, Zhu Hong, Deputy Director of CUEB School of International Education, Professor Zhou Haigang from the School of Finance of U.S Cleveland State University, Ni Juling, President of Chinese Culture Garden, and Mr. Christopher, administrative assistant of Mr. Yan Yuntai.