Liu Zhaochen from CUEB Wins the 4 × 100 m Freestyle Relay at 2016 Asian Swimming Championships
Author:Translated by Zhang Huixiang, Proofread by Lu Ni
Editor:Yang Jun
Publish:2016-11-28
Size:TTT
From November 17
th
to 20
th
, 2016 Asian Swimming Championships was held in Japan's Tokyo Tatsumi International Swimming Center.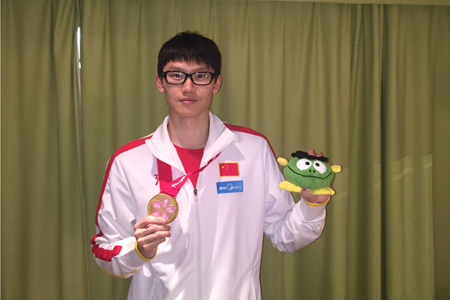 Liu Zhaochen, a senior from CUEB School of Economics, participated in the competition on behalf of the Chinese team again after Rio 2016 Olympics. At the finals (day four) of the 9 swimming competitions, Lin Yongqing, He Jianbin, Liu Zhaochen and Yu Hexin broke the 4 × 100m freestyle relay match record, finishing in 3:16.37 and overtaking the Japanese team. Liu Zhaochen came in the second among the four, setting a personal record of 49.15.
2016 Asian Swimming Championships ended, but not Liu's mission as a national team member, as he is going to participate in the 2016 FINA Short Course World Championships to be held at Windsor, Canada in December.