6th CUEB Role Model Awarding Ceremony Kicks off
Author:Translated by Wang Qi,Proofread by Li Bing
Editor:Yang Jun
Publish:2018-01-15
Size:TTT
On 26th December, the 6th CUEB Role Model Awarding Ceremony, with the theme of "Stay true to the mission and forge ahead", kicked off at Zhuoyu Lecture Hall,Boyuan Building. The ceremony was held to honor students and groups who have won various kinds of Scholarships and honorary titles during the school yearfrom 2016 to 2017.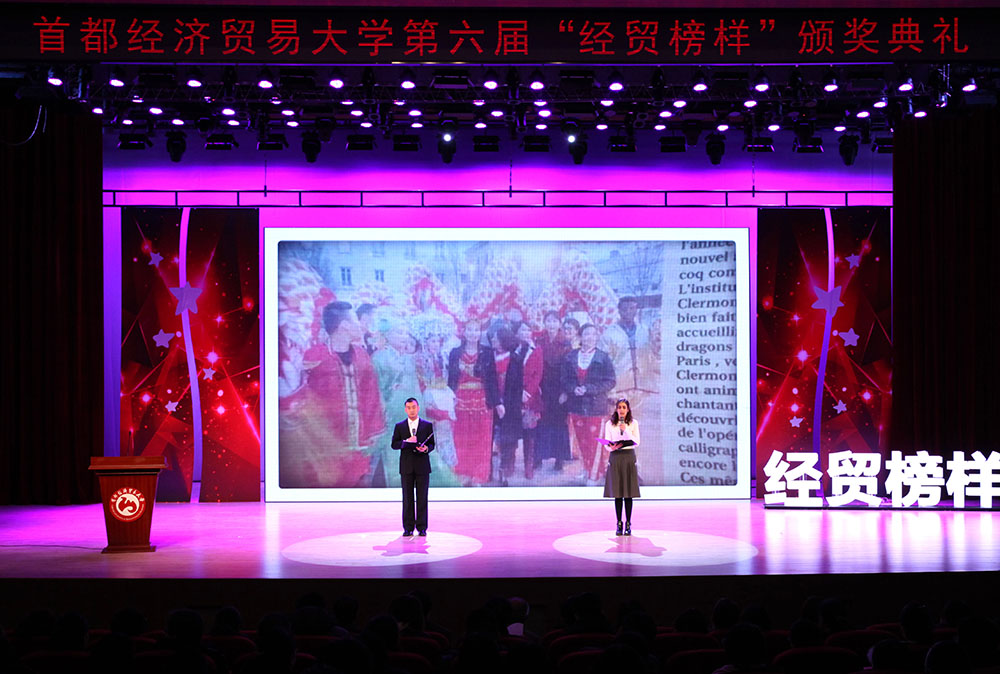 Li Zhaoming from School of Economics and Hu Ye from School of International Education told the stories of studying aboard. They introduced their brand-new understanding of Chinese culture through their own experience and feelings. As communicators of Chinese culture, they linked China to the world in terms of culture to let the world know and love China.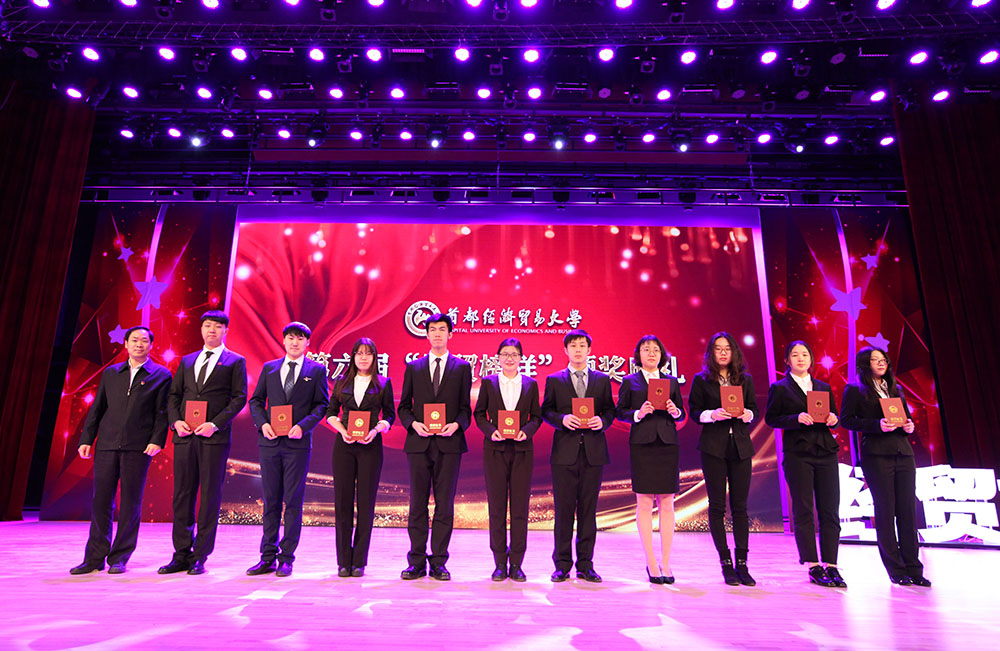 The first award was Individual Scholarships. Among CUEB undergraduates,1,989 students received the Outstanding Academic Performance Scholarships, 376 students Social Work Scholarships, 11 students and 27 groups Art and Sports Scholarships, 14 students and 63 groups Scientific Research and Innovation Scholarships, and 30 students Social Sponsorship Scholarships.Among postgraduates, 1,242 postgraduates won Outstanding Academic Performance Scholarships and 29 students Scientific Research and Innovation Scholarships.Among foreign students, 3 students were awarded the Chinese Government Scholarships and 7 students Outstanding Performance Scholarships. Tang Xing'an presented awards to student representatives. Zhu Yulin from the School of Statistics, winner of Outstanding Academic Performance Scholarships, introduced her story titled "My Journey to Dream" about setting up "Big Data + Value-added Platform for Preschool Education".
Awards presented next were honorary titles. 785 people won various honorary titles with 18 students conferred honorary titles of Outstanding Students, 6 students City-class Outstanding Student Leaders, 6 classes Beijing Advanced Classes, 5 classes Beijing Excellent Grassroots Organizations and 3 dormitories Outstanding Beijing Grassroots Organizations. Seven student Party branches won prizes in Beijing Red "1 + 1" Demonstration Event. Ding Lihong and Xu Fang presented student and group representatives with awards. The tourism managementclass of 2019 from School of Business Administration made a presentation as the winner of Beijing"My Class My Home" Outstanding Classes. Through self-management, self-education, self-service and self-supervision, they showcased their colorful youth from four aspects named "growth in my class", "commitment to the society", "expertise rooted in practice", "faith in dedication to grassroots".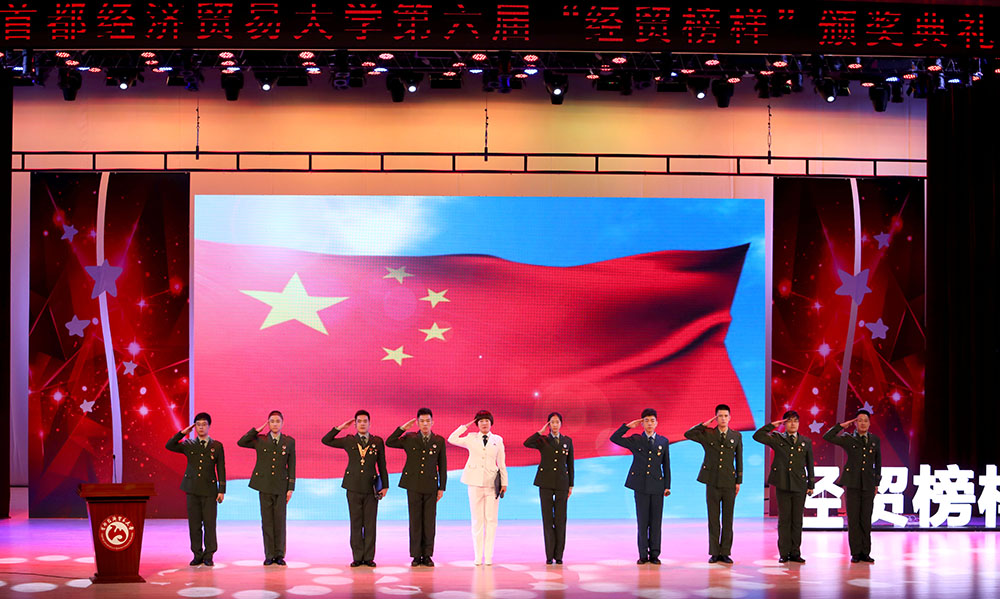 Next were National Scholarships and National Encouragement Scholarships. 92 students received National Scholarships and 267 students got National Encouragement Scholarships. Feng Pei awarded prizes to students. The President's Scholarship is the top award in CUEB, which is given to full-time undergraduates who have high moral standards, solid academic foundation, outstanding innovation ability and excellent comprehensive qualities. Fu Zhifeng shook hands with the winners of President's Scholarships, presented awards to them and encouraged them to exert their efforts and create greater glories.
Li Shangmeng, a vigorous soldier in Tibet, Cui Chaoyue, a spirited navy man—CUEB role models who delicate themselves to national defense, presented their military life and stories by recitation in a sonorous voice. The teachers and students present were deeply moved.