CUEB Holds Founding Ceremony of Fintech Research Center & Top-class Finance Major Construction Seminar
Author:Translated by Wang Qi,Proofread by Li Bing
Editor:Wan Chenfang
Publish:2018-09-25
Size:TTT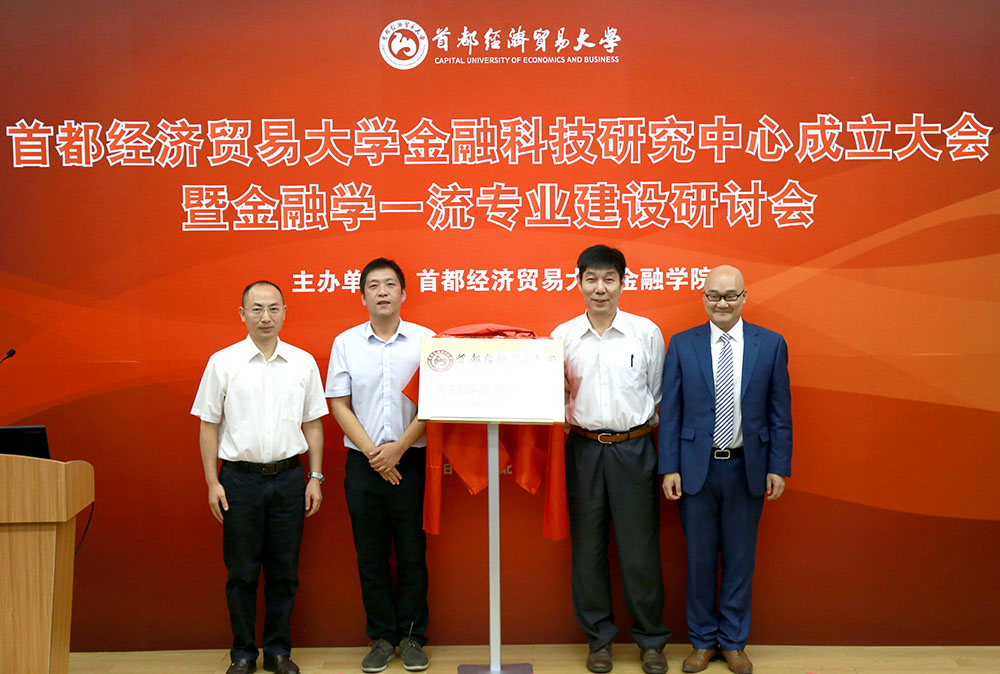 On September 16th, the School of Finance of CUEB held the founding ceremony of the Fintech Research Center (hereinafter referred to as the Center) and the top-class major of finance construction seminar. More than 40 well-known experts, scholars and business elites from China gathered in CUEB to share professional cases and construction experience of the finance major. They also had discussion on the new development of fintech research and finance major. Leaders from Beijing Municipal Education Commission, Fu Zhifeng, President of CUEB, etc. attended the ceremony, which was presided over by Wang Chuansheng, Vice President of CUEB.
Fu Zhifeng addressed the ceremony with three wishes to the Center: first, it could achieve synergy and coordinated development with relevant departments of the School of Finance and other Schools; second, it could further discuss and explore the dialectical relationship between finance and technology within the academic community and the industry, and in the context of subject-specific education, explore how to organically integrate cross-major and cross-discipline knowledge so as to make the fragmented knowledge structured; third, the Center could focus on the talents nurturing. When conducting research of finance and technology, students should be able to use the knowledge of various subjects.
The leaders of the Beijing Municipal Education Commission and Fu Zhifeng unveiled the plaque of the Center. Yin Zhichao, Dean of the School of Finance of CUEB, introduced the founding background, organizational structure, research concentration, research team and previous research results of the Center.
In the discussion by experts in the industry, Li Xuyang, General Manager of Tencent Cloud, Dr. Song Yang from China Asset Management, Dr. Liu Heping from Beijing Unis Intelligent Company of Tsinghua Unigroup, and Kang Long from Windquant, made keynote speeches.
The meeting in the afternoon centered on the construction of a first-class finance major. Zhang Xueping, Dean of the Division of Teaching Affairs, introduced the major structure, layout and optimization plans. Yin Zhichao highlighted the goals, ideas, roadmap and specific measures of the construction. Then the meeting continued with three themes: international talent nurturing, curriculum construction, and teaching practices.
In the session of international talent nurturing, Professor Liu Liya, from Shanghai University of Finance and Economics, Professor Guo Ye, from Xiamen University, Professor Yang Zihui, from Sun Yat-Sen University, Professor Ling Jie, from Shanghai University of International Business and Economics and Professor Zhao Shangmei, from Beihang University, shared the experience of international talents nurturing from the perspectives of teachers, students and teaching practices.
The meeting also featured two dedicated discussion sessions of curriculum construction and teaching practices to exchange experience with experts.