Laos Educator Delegation Visits CUEB
Author:Translated by Zhang Juan,Proofread by Li Bing
Editor:Wan Chenfang
Publish:2018-11-19
Size:TTT
On November 6th, CUEB received a delegation of 5 from Laos, including Khamlusa NOUANSAVANH, Director of the Student Affair Office of Laos Education and Sports Ministry, and Phoxay THEPVILAYVONG, Counsellor of the Education and Culture Office of The Lao People's Democratic Republic Embassy to China. Xu Fang, Deputy Party Secretary of CUEB met them in Boyuan Building.
Xu Fang extended warm welcome to their visit, and expressed sincere gratitude for Phoxay THEPVILAYVONG's wonderful speech at the 4th International Culture Festival. She noted that CUEB, as a key university under the Beijing Municipality, is devoted to educational exchanges and cooperation among "Belt and Road" countries. She hoped that with the joint efforts of both sides, cooperation concerning international students' education could be strengthened in a bid to nurture more competent students for Laos. On the foundation of student education collaboration, she also looked forward to exchanges and training activities for Lao people from academia and business world.
While conveying heart-felt gratitude for the warm reception of CUEB, Khamlusa NOUANSAVANH also expressed sincere thanks for CUEB's contribution in nurturing brilliant students for Laos. He hoped to learn more from CUEB via enhanced exchanges. Beyond that, the establishment of Student Services Centre by the Education Ministry of the Lao People's Democratic Republic has enabled more Laos students to apply for universities at home and abroad. He hoped to boost Lao's personnel training in economics and trade via sending more excellent students to CUEB.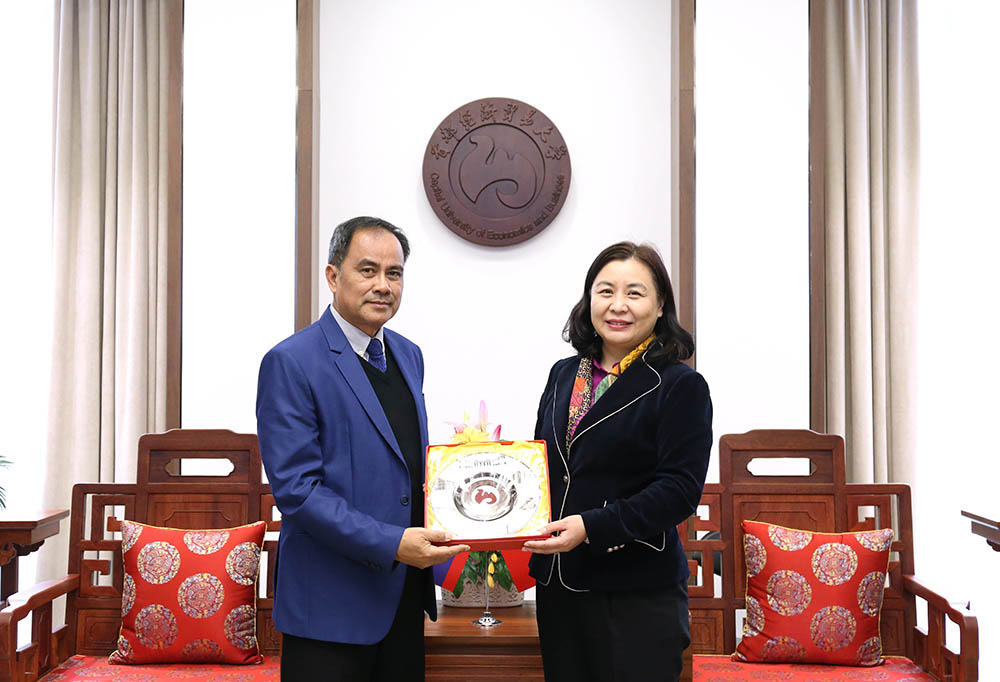 After the meeting, the delegation held cordial talks with Laos students at CUEB.