CUEB Signed MOU with Assosa University
Author:Translated by Wang Qi, profread by HuaZexun
Editor:Yang Jun
Publish:2017-06-13
Size:TTT
On the morning of June 8th, CUEB President Fu Zhifeng and Deputy Party Secretary Xu Fang received in Hechang Hall the President of Assosa University, Amsalu Bedemo Beyene, and Vice President in charge of academic affairs, Abdulmuhsin Hassen Alajib. After talks on teachers visiting and academic exchanges, a MOU was signed between the two sides.
Fu Zhifeng, on behalf of CUEB, extended warm welcome to Amsalu Bedemo Beyene. He said the friendship of China and Africa runs a long course, and cooperation in higher education is getting increasingly closer. Driven by the Belt and Road Initiative, CUEB hoped to strengthen cooperation in joint education, teachers visiting and academic exchanges. At the same time, CUEB invited teachers of Assosa University for further training and academic forums. Teachers of CUEB will also visit Assosa University for short-term teaching when time is ripe.
Xu Fang gave a brief introduction of CUEB's international exchange. In recent years, CUEB increasingly strengthened cooperation with African universities. By far, CUEB had established cooperative relationship with 7 universities from 4 African countries, namely, Ethiopia, Tanzania, Mozambique and Egypt. 47 African students were enrolled in Economy and Management programs. Xu Fang welcomed young teachers and students of Assosa University for visiting and exchanges.
Amsalu Bedemo Beyene thanked CUEB for the warm reception and introduced Assosa University. Assosa University is an emerging public university in Ethiopia with schools in engineering, computer and information, business and economics, social sciences and humanities. Its students totaled around 11,000. At present, the faculty of Assosa University was in urgent need of further development, so they hope to send young teachers to learn more professional knowledge and enhance their academic research ability. Assosa University hoped to carry out a further cooperation in academic exchanges, student exchanges, joint education, joint research and other aspects.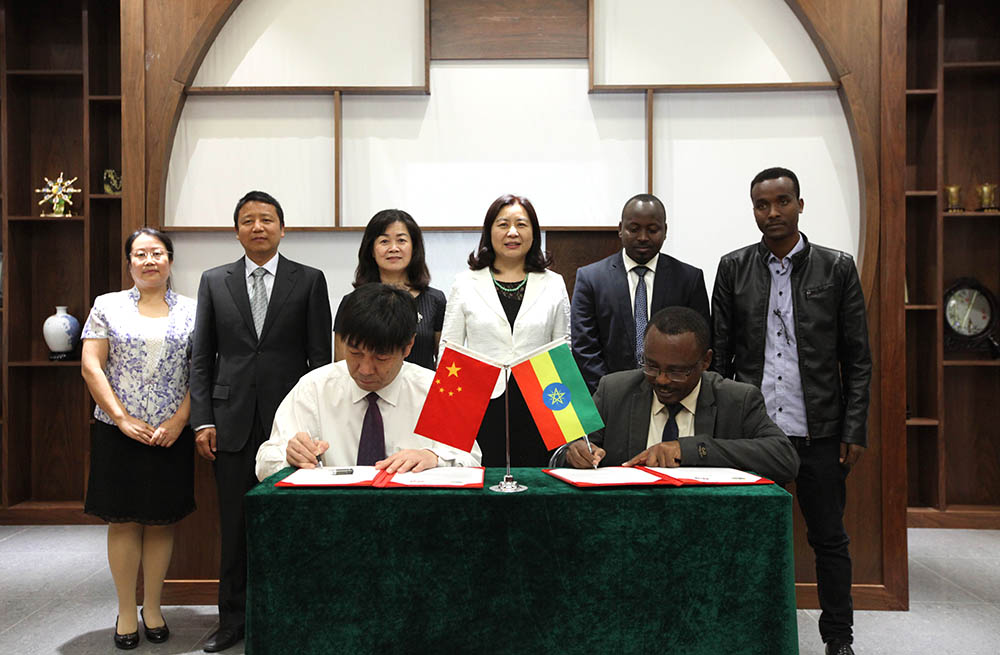 Fu Zhifeng, on behalf of CUEB, signed a MOU with Assosa University
After the meeting, Xu Fang took the delegation of Asossa University on a tour to the university history Museum and library.