CUEB-CSU Confucius Institute Honored Confucius Institute of the Year
Author:Translated by Sun Lei,Proofread by Li Bing
Editor:Yang Jun
Publish:2017-12-25
Size:TTT
The Confucius Institute Headquarters, or Hanban, held the 12th Confucius Institute Conference in Xi'an on December 12.Liu Yandong, Vice Premier of the State Council and President of the Council of the Confucius Institute Headquarters, attended the grand meeting during which she presented Confucius Institute of the Year award to the Confucius Institute at Cleveland State University (CICSU), co-established by CUEB and CSU. Other attendees include Dr. Xu Fang, Deputy Secretary of CPC CUEB Committee, Dr. Anthony Yen, Chairman of the Board of Directors of CICSU, Dr. Xu Yan, American Director of CICSU, Zhang Xuhong, Chinese Director of CICSU, and Zhu Hong, Vice-President of CUEB School of International Education.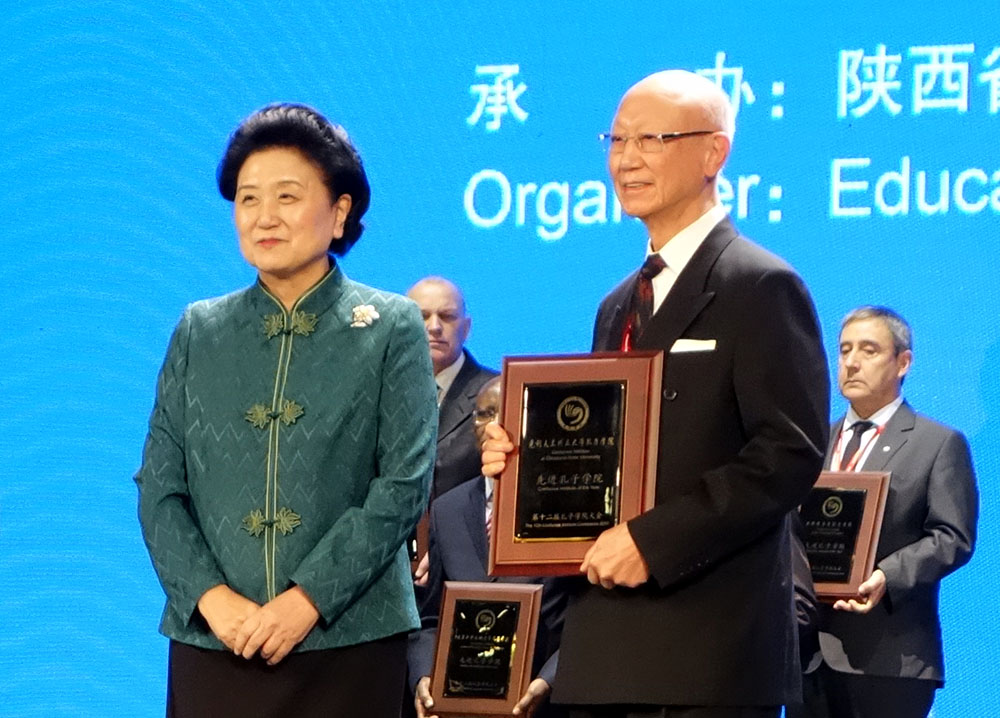 The event gathered some 2,500 university presidents and Confucius Institute (Classroom) representatives from over 140 countries and regions. As of now 525 Confucius Institutes and 1,113 Classrooms have been set up in 146 countries and regions. A total of 25 institutes were honored 2017 Confucius Institute of the Year. Vice Premier Liu Yandong gave a speech before presenting awards to the winning institutes and individuals.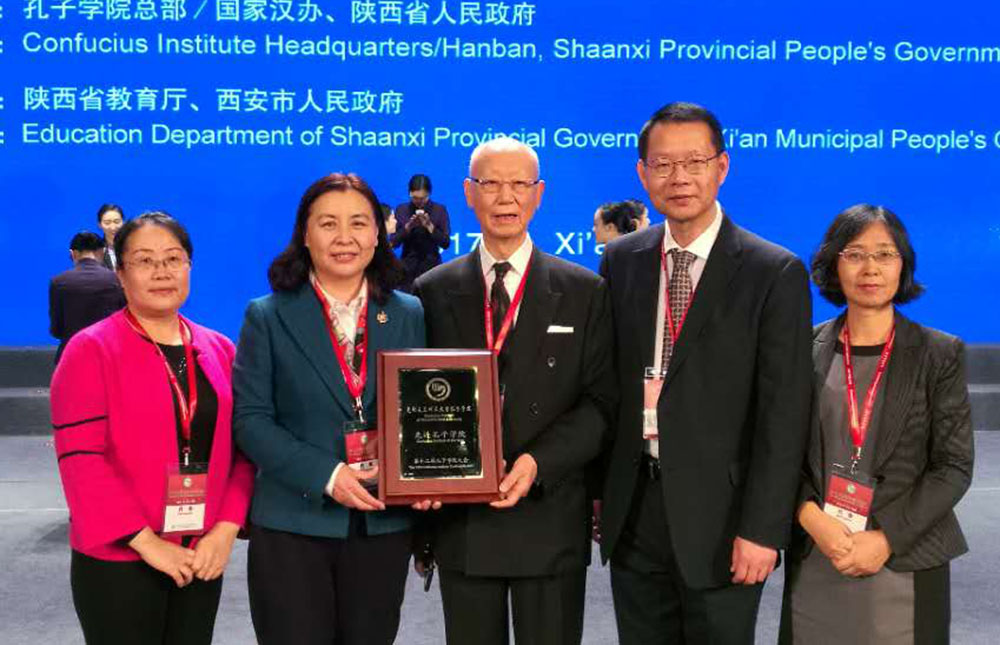 The Confucius Institute at Cleveland State University has been up and running since 2009 through the joint efforts and close partnership of CSU and CUEB. It should be noted that the past two years saw numerous meetings held and several agreements reached between the two parties as CUEB strives to promote the development of CICSU, thereby bringing the two universities closer. On October 16, 2016 when CUEB celebrated its 60th birthday, Feng Pei, Secretary of CPC CUEB Committee, received Dr. Anthony Yen and CICSU visiting delegation. They exchanged insights on the development orientation of CICSU in the hope that based on the existing disciplines, a stronger CICSU would serve as a platform for both universities to expand cooperation in full swing anchored by improved communication in the study of business and trade. In the December of the same year, CUEB Vice Party Secretary Xu Fang and CSU Vice President Cindy Skaruppa attended the signing and opening ceremony of China-US Center for Financial Studies and discussed how to make business a unique feature of CICSU.CUEB President Fu Zhifeng paid a visit to Cleveland State University from September 21 to 23 this year and attended CUEB-CSU 2017 Annual Council Meeting of the Confucius Institute.Mr. Fu held in-depth talks with his U.S. counterpart Ronald Berkmanon staff visit, students exchange, etc. in an effort to develop CICSU with its own characteristics and further cooperation between CUEB and CSU.
At the moment, through the building of the Confucius Institute, CUEB and CSU have joined hands in establishing research centers, exchanging teachers and students, co-organizing academic seminars, conducting researches and so on.
Meanwhile the influence of CICSU has been flourishing in the past eight years thanks to the sustained efforts from both parties. The CUEB-sponsored Confucius Institute Chinese Bridge Summer Camp for American high school students were highly appreciated by Hanban, members of US Congress and the Mayor of Cleveland. CICSU also launched Chinese composition competitions targeted American primary- and middle-school students and organized Spring Festival activities along with other programs of amazing popularity in local governments and communities.
In the future, CUEB will continue to help with the building and development of CICSU and transform it into a bridge of friendship and a platform of inter-university cooperation through exchanges and mutual learning between different languages and civilizations.