11th Forum on China Economic Growth & Business Cycle
Author:Translated by Hua Zexun,Proofread by Li Bing
Editor:Yang Jun
Publish:2017-07-07
Size:TTT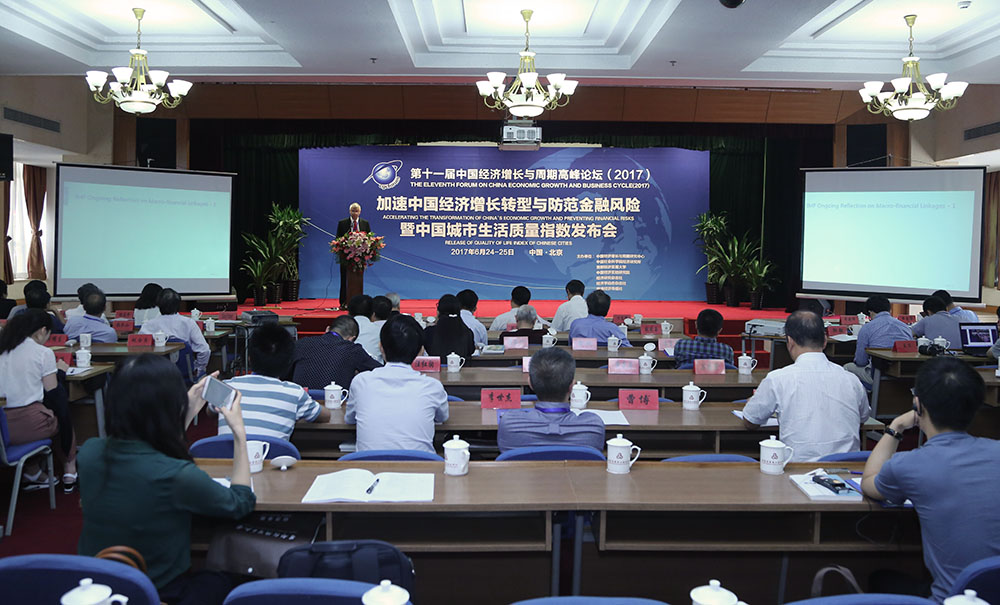 On June 24th to 25th, the 11th forum on China Economic Growth and Business Cycle and release of Index of Chinese Cities Life Quality kicked off in Beijing. The theme of the forum is "Accelerating the Transformation of China's Economic Growth and Preventing Financial Risks". Hao Ruyu, deputy director of Financial and Economic Affairs Committee of the National People's Congress Standing Committee and honorary president of the National Institute for Economic Experiment and Fu Zhifeng, CUEB president attended the forum and delivered speeches. Nearly 200 experts and scholars from domestic research institutions, colleges and universities, government agencies, IMF and other international organizations and foreign universities attended the forum and had in-depth discussions on related issues.
Keynote speakers include Gao Peiyong, director of Institute of Economics, Chinese Academy of Social Sciences (CASS), Zhang Shuguang, professor of Institute of Economics, CASS, Oliver Frecaut, chief expert of IMF Financial Sector, Xu Xianchun, director of China Data Center, Tsinghua University, Shen Kunrong, dean of School of Economics, Nanjing University, Fu Minjie, associate researcher of Institute of Economics, CASS.
Zhang Liancheng, director of CUEB National Institute for Economic Experiment, released the 2017 quality of life index in Chinese cities. According to surveys, in 2017, weighted average of subjective life quality satisfaction indices in 35 Chinese cities is 54.53, slightly lower than 55.82 of last year. Specifically, compared to those of 2016, living standard index sees a slight increase, while cost of life index, human capital index and social security index all decline to different extent. Residential health level indices vary among cities and different age groups, but the overall level is higher than the levels of some U.S. regions. Objective quality of life index shows that the overall life quality of eastern cities is still higher than that of western ones, yet with discrepancy between objective and subjective indexes in some cities. In 2017, average value of objective quality of life indexes in 35 cities stands at 54.98, slightly higher than 54.75 of 2016. Compared to 2016, objective living standard index rises and objective living cost index falls, which means living cost increases as well. Besides, objective indices on human capital, social security and life feelings remain basically flat.
Zhang Liancheng indicated that the research group, given the data above, believed that China was at the crucial stage of economic growth transformation with structural reform showing effects. Yet we were faced with daunting challenges, such as the huge gap of life quality among regions and cities, increased living cost, deficient educational resources, low social security level and unpromising job prospects. To address these problems, the key in further economic and social transformation would be to sustain a steady economic growth. Meanwhile, governments at all levels should strive to build a better livelihood service system to improve the life quality of all residents.
During themed presentations, many scholars and experts delivered speeches on various topics including China's economic reform, researches on economic growth, sustainability of growth, risk prevention, etc., providing insightful perspectives for better understanding of China's economic growth and risk prevention.
The forum had two parallel sessions, namely "economic structural transformation and economic growth" and "financial risk prevention", to delve into the problems regarding growth and risk prevention from academic perspectives. Many scholars from Chinese Academy of Social Sciences and CUEB reported on their research findings.
The forum was co-sponsored by the Institute of Economics (CASS), Capital University of Economics and Businesses, National Institute for Economic Experiment, Economic Research Magazine Office, Economics Perspectives Magazine Office, HK Economic Information & Agency and other institutions.