School of Economics Receives Belgium Teachers & Students and Conducts Cultural Exchange Activities
Author:Translated by Meng SH,Proofread by Li Bing
Editor:Wan Chenfang
Publish:2018-04-02
Size:TTT
On March 22nd, the School of Economics received more than 30 undergraduates from the Ghent Institute of the University of Ardeville, Belgium. In parallel with cultural exchange activities between Sino-Belgium students, the two sides discussed cooperation such as semester exchange programs. Liu Jun, head of the International Office of the Ghent Institute of the University of Ardeville, and Zhao Jiazhang, Deputy Dean of the School of Economics of CUEB attended the welcoming ceremony to discuss matters such as further cooperation.
At the meeting, on behalf of the School of Economics, Zhao Jiazhang extended warm welcome to the teachers and students of Ghent Institute. Zhao briefly introduced the School of Economics and CUEB, and invited Belgian students to study in China. Zhao Jiazhang and Liu Jun discussed issues such as cooperation framework agreements and semester exchange programs. The two sides were positive about the implementation of bilateral cooperation and agreed to meet again in June this year to promote the substantive development of the exchange programs.
Cadia (transliteration), a doctoral student from Bulgaria, gave a speech entitled "China's Economy and Market Trends" at the meeting. She analyzed China's economy from four perspectives: economic recovery, consumer trends, innovation trends, and key corporates. The speech focused on especially the current state of science, technology, communication and agriculture, describing a vivid picture of China for the Belgian students.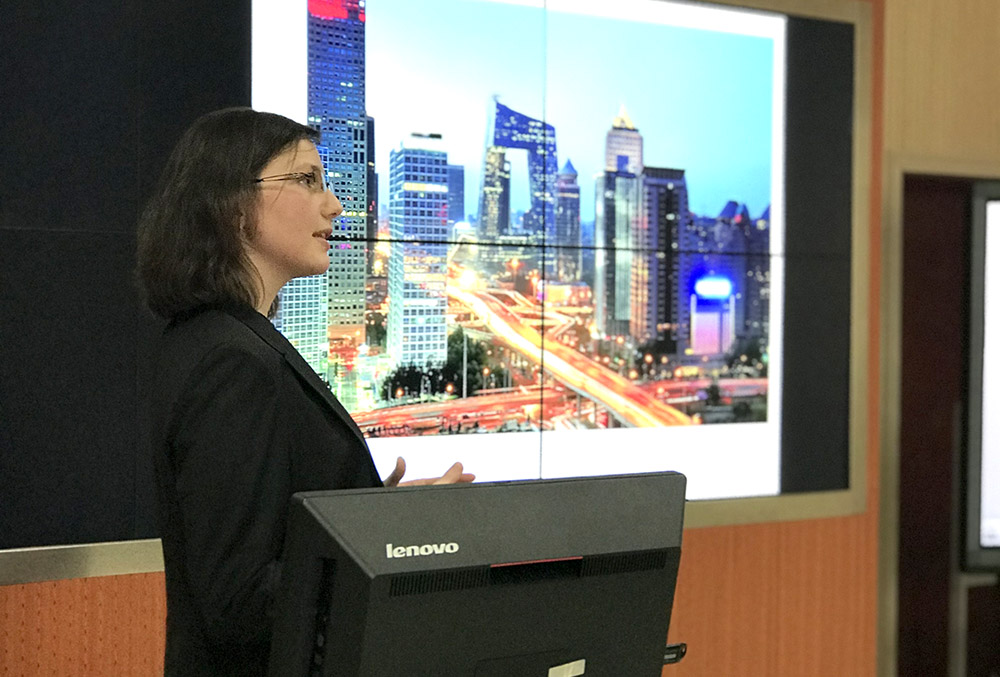 After the meeting, Belgian students visited the campus and learned Chinese traditional culture and campus culture by experiencing Chinese characters writing, Tai Chi and tongue twist.