China's New Employment Form Development Symposium Held at CUEB
Author:Translated by Meng SH,Proofread by Li Bing
Editor:Wan Chenfang
Publish:2018-05-21
Size:TTT
On May 8th, China's New Employment Form Development Symposium with the theme of "New Economy, New Employment, New Development" was held at CUEB. Before the symposium, President Fu Zhifeng and Deputy Party Secretary Xu Fang met with the leaders and experts. Zhang Xiaojian, Former Vice Minister of the Ministry of Human Resources and Social Security of the PRC and Chairman of China Association of Employment Promotion(CAEP), and Li Jianhua, Chief Development Officer of DiDi attended the meeting.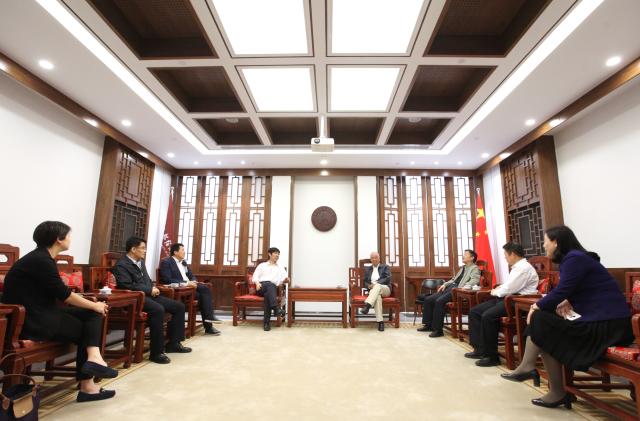 Xu Fang pointed out that the symposium was very relevant to the focus of the research and policies in current and future employment, which is of great significance in promoting related research in the employment field. CUEB will take this opportunity to further strengthen exchanges and cooperation with governments and enterprises, thus to improve the effectiveness of the related research. In addition, CUEB will shoulder its duty as a think tank for the rapid development of China's new employment form.
Zhang Chenggang, teacher from the School of Labor Economics of CUEB made a keynote speech. He proposed to establish the Research Center of China's New Employment Form under the initiative of the School of Labor Economics, CAEP and DIDI Research. The Center aims to help companies, governments and society form an in-depth understanding of future work and employment prospects as well as provide theoretical and empirical support for the management and policy decisions. His proposal was unanimously endorsed by political leaders and academic experts.