CUEB MBA Economy & Management Forum: Thinking on Tipping Point of Real Estate
Author:Translated by Liang Jue, proofread by ChenShuyi
Editor:Liang Jue
Publish:2017-05-31
Size:TTT
On May 21st, with the theme of Change and Tipping Point of Real Estate Industry, 2017 CUEB MBA Economy and Management Forum was held on Hongmiao Campus. It was hosted by CUEB MBA Education Center and co-organized by MBA Union. Sun Shanxue, Deputy Secretary of the Party Committee of CUEB, attended the forum and made welcoming remarks.
Zhao Xiuchi, professor of School of Urban Economy and Public Administration, vice president and secretary general of Beijing Real Estate Law Society, gave a speech on "Beijing Population & Function Decentralization and Real Estate Regulation". The speech analyzes the distribution and change of population in Beijing, causes and harms of population over-concentration in Beijing, the relation between population and real estate, as well as the logic of and suggestion for real estate regulation and control policy. From these perspectives, Zhao analyzed the necessity of population and function decentralization and the real estate regulation policy, and then pointed out that the balance between supply and demand is the crux of price regulation.
Yin Zhongli, researcher at Institute of Finance of the Chinese Academy of Social Sciences, gave a lecture on the theme of "Looking at the Housing Price from the Perspective of Currency". The central government attaches great importance to the real estate bubble and the resulting financial risks. On December 14th, 2016, General Secretary Xi Jinping said that we should be highly alert to financial risks at the Central Economic Work Conference. Xi pointed out that it was important to make monetary policies at the macro level and avoid inflation of property bubbles due to overly easy monetary policies. Meanwhile, micro credit policies should support reasonable self-occupied housing and strictly limit the flow of funds to invest in speculative purchase of houses. Therefore, it was necessary to study the direction of establishing residential policy-based financial institutions so as to reform housing fund system and meet the residents' housing demand.
As "Xiong'an New Area" was a hot topic, Shen Linan gave a keynote speech named "Rising up, Xiong'an" in the forum. The strategic function of Xiong'an New Area lies in relocating non-capital functions out of Beijing, adjusting and optimizing the layout of Beijing-Tianjin-Hebei urban structure, upgrading two-wheel development driven by Beijing and Tianjin to the Golden Triangle of Beijing, Tianjin and Xiong'an New Area, creating new engines driven by innovation, building a green and intelligent Beijing, fostering the beautiful and ecological environment, developing high-end and high-tech industries, providing high-quality public services, building fast and efficient transportation system, promoting institutional reform, expanding all-round opening and so on. Shen also pointed out that China would form five development centers, Beijing, Shanghai, Guangzhou, Shenzhen and Xiong'an, across the country in the future.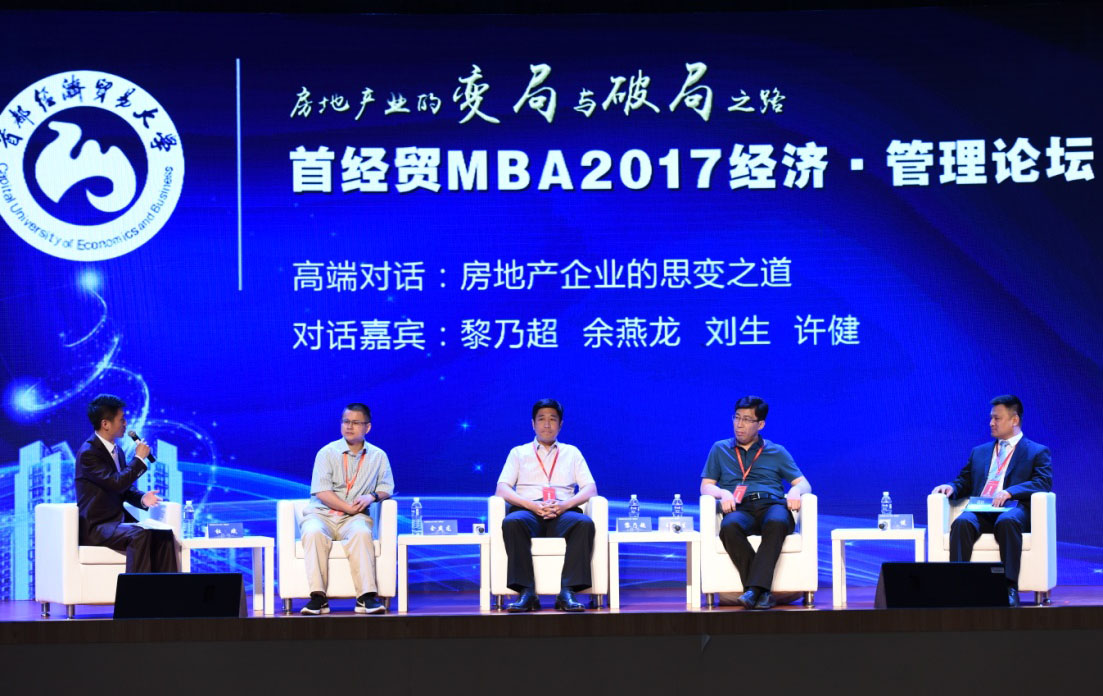 In the high-end dialogue session, Li Naichao, Yu Yanlong, Liu Sheng and Xu Jian discussed on "re-navigation of real estate enterprises". They expressed their opinions on the challenges faced by the real estate and corresponding solutions under the new policies from different angles and industrial segments. A consensus has been reached: for real estate enterprises, their decision-makers not only need to have their fingers on the pulse of current changes, but also need to figure out their future directions for development. To conform to national policies is a top priority.
Finally, the plaque-unveiling ceremony for CUEB MBA Real Estate Association brought the forum to a climax. Yin Zhongli, Researcher of Institute of Finance, Chinese Academy of Social Sciences, Shen Linan, Vice President of Tahoe Group Li Naichao, Chairman of Beijing Residential Real Estate Industry Chamber of Commerce Yu Yanlong, Deputy General Manager of China Communications Construction Wodi Company , Liu Sheng, General Manager of Jingke Real Estate Development Co., Ltd. Xu Jian, Sales Director of RiseSun Real Estate Development Co., Ltd. as well as career development mentors, alumni and MBA students participated in the forum.