CUEB and Cleveland State University: Joint U.S. High School Students Summer Camp
Author:Translated by Liang Jue,Proofread by Li Bing
Editor:Yang Jun
Publish:2017-07-10
Size:TTT
From June 18th to July 1st, 2017 High School Students Summer Camp of the Confucius Institute of Cleveland State University was successfully held at CUEB, with great support from the State Council Vice Premier Liu Yandong, U.S. Congressman Marcia L.Fudge's Office and the headquarter of Confucius Institutes. A total of 27 U.S. high school students and three teachers, from the city where the Confucius Institute of Cleveland State University is based and other states, took part in the summer camp.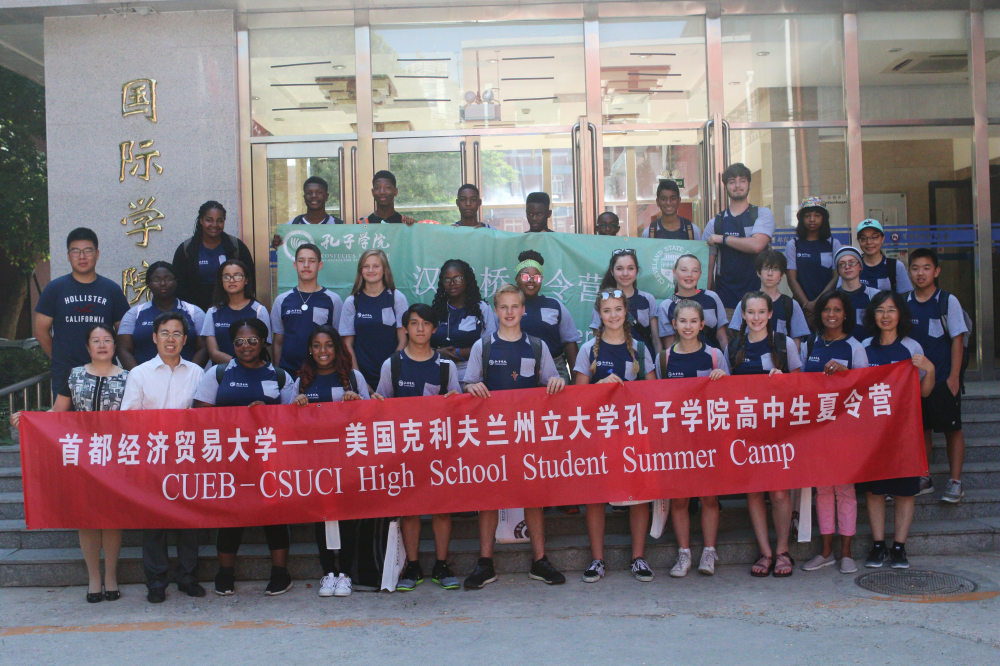 CUEB School of International Education has designed and arranged a 14-day "China Tour – Capital Beijing + Colorful Yunnan", including taking Chinese language courses, visiting Confucius Institute Headquarter, Hutong tours and other themed cultural experiences. The tour also featured Chinese calligraphy, Chinese paper cutting, Chinese songs and film appreciation, Beijing and Yunnan historical and cultural attraction trips as well as urban development visits, etc. All of these activities were innovative and diverse. Especially, the cooperation with Yunnan Normal University provided a great opportunity for the summer camp to experience the customs and geography of southern China and Yunnan minority culture. Campers were deeply captured by the profound traditional Chinese culture.

On June 30th, at the graduation ceremony for summer camp, after a brief review of the 14-day trip to China, the US team leader on behalf of the campers and teachers expressed gratitude to CUEB for its thoughtful arrangements and warm reception. The campers also said that the summer camp was an extraordinary and unforgettable experience, giving them a chance to know more about China. From this trip to China, through learning Chinese and sharing ideas, they would look at China and the world through a new lens. After returning to the United States, they will tell this experience to their family, friends and people they meet, so that more people will have a better understanding of China. They also exclaim: "Chinese friends' enthusiasm and hospitality give us a true sense of the Chinese culture. If we have opportunities, we will come back to Beijing, and then wanna know more about this country!"

The U.S. High School Summer Camp is supported by the Confucius Institute of Cleveland State University and CUEB. It aims to promote the communication between Chinese and American youth students through the Chinese language learning, Chinese cultural exhibitions and interactions, and Confucius Institutes visits. The aim is to stimulate American students' interest for learning Chinese, and become international talents and friendly envoy of language and cultural exchanges between China and America in the future.