Delegation of New Mexico University Visits CUEB
Author:Translated by Wang Qi,Proofread by Li Bing
Editor:Yang Jun
Publish:2017-07-10
Size:TTT
On the morning of June 29th, Vice President Sun Haozhe met with Interim Provost Prof. Craig White at Hechang Hall, Boyuan Building. The two sides reached a consensus on strengthening students and teachers exchanges, building a multi-channel education platform to upgrade and extend cooperation, and to promote comprehensive inter-university cooperation.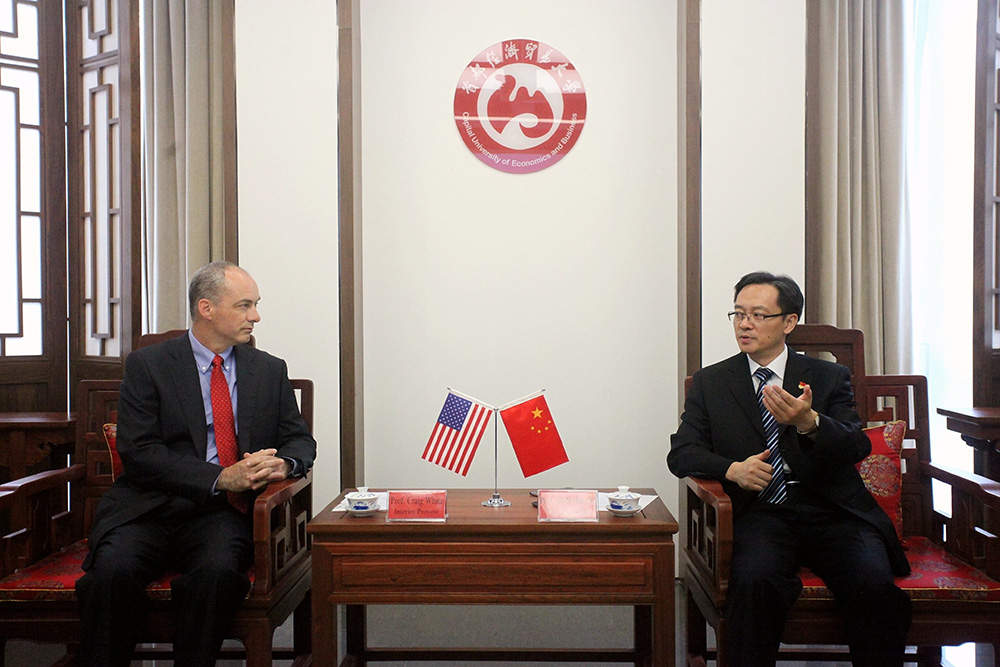 Sun Haozhe extended welcome to Craig White for visiting CUEB again. Craig White agreed with the vision of bilateral cooperation proposed by CUEB. In June, Prof. Michelle Arthur, director of the Department of Organizational Behavior at the Anderson School of Management, University of New Mexico, joined the "Summer International School" in 2017 and offered the all-English course of Organizational Behavior to all sophomore students majoring in business relation (international accounting) of the Overseas Chinese College. In the future, the University of New Mexico will send more teachers to Beijing for short- and long-term lectures and academic exchanges. He said that the University of New Mexico was ready to cooperate with CUEB in accounting, information science and technology and other common disciplines, building education and cultural exchange bridge for Chinese and American students; at the same time, he invited teachers and students from CUEB to visit New Mexico University and discussed scientific research in fields of common interest.
Jiao Yong, dean of the Overseas Chinese College, said that in 2015 the college signed a bilateral "3 +1+1" master co-operation agreement with the Anderson School of Management, and in 2016 appointed Professor Luo Xin of the school as the overseas deputy dean of the Overseas Chinese College. At present, the College has sent six students and two teachers to study at the New Mexico University. The bilateral cooperation is beginning to take shape. Overseas Chinese College welcomes students from the University of New Mexico for exchange and field study. It hopes to increase the bilateral exchange of students and teachers, and looks forward to furthering the undergraduate "2+2" dual degree program with the Anderson School of Management.