CUEB DPRIESB Awarded "2017 the Most Influential Responsibility Brand in Beijing-Tianjin-Hebei"
Author:Translated by Chen Jiayi,Proofread by Li Bing
Editor:Yang Jun
Publish:2017-10-16
Size:TTT
On September 28th, 2017 Beijing-Tianjin-Hebei Innovation-Driven Collaborative Development Summit & Influential Brands of the Year Award Ceremony was held in Tianjin. With the theme of "Innovation and Ingenuity", the summit discussed the practical experience of Beijing-Tianjin-Hebei integration from three perspectives—innovative philosophy, ability and approach. CUEB Prof. Zhu Erjuan attended the summit and made a keynote speech on behalf of Development Policy Research Institute for Economy and Society of Beijing (short as DPRIESB).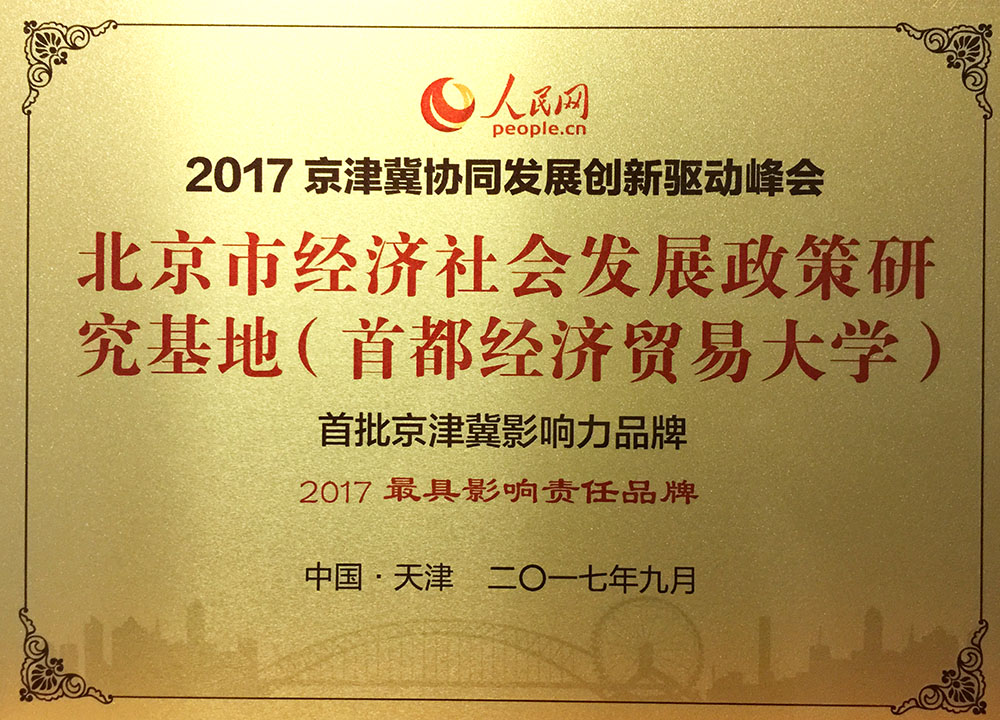 In June, People's Daily Online released the notice on selecting the Influential Brands of the Year in Beijing-Tianjin-Hebei. After case application, primary selection, online release and online voting, DPRIESB distinguished itself from 267 candidates and was awarded by People's Daily Online "2017 Most Influential Responsibility Brand in Beijing-Tianjin-Hebei".
DPRIESB, aiming at forging a new capital think tank, is committed to its academic research responsibilities through serving national strategic plans, to its government decision-making support responsibilities through research achievement application, to its social development service responsibilities through building a consulting service platform. In recent years, with the Blue Book of Beijing-Tianjin-Hebei as a major outcome, DPRIESB has provided strong backings to both the local and central governments for policy formulation. Based on current achievements, DPRIESB is seeking to become a leader in theory studies and a crucial think tank for government's decision making.