CUEB's Report Receives Significant Instructions from Beijing Government
Author:Translated by Wang qi,Proofread by Li Bing
Editor:Yang Jun
Publish:2017-10-16
Size:TTT
Recently, Annual Report On Social Responsibility of Non-Public Corporate in Beijing (2017), finished by CUEB School of Business Administration, received significant instructions from Jing Junhai, Deputy Secretary of Beijing Municipal Party Committee.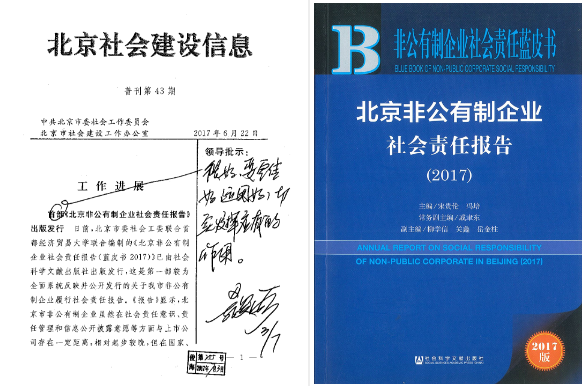 The Report, drawn up by CUEB and Beijing Municipal Commission of Social Work, was included in Blue Book Seriesby Social Sciences Academic Press. Published in June 2017, the Report was the first instalment in this series.
It was the first systematic and comprehensive report published on the fulfillment of non-public enterprises' social responsibility. The analysis focused on four aspects. First, it made a general review of the performance in 2016. Second, it collected and processed data according to 4 evaluation dimensions and 28 evaluation indexes in the evaluation index system and worked out the general trends and patterns of the samples. Third, through comparative analysis, it offered integrated horizontal and vertical reviewsby differentcorporate sizes, sectors, ownerships and whether the corporations were listed or not. Last, it dug into the cases of 10 typical enterprises leading in CSR performance for best practice sharing and reference.