China Financial Risk Annual Report (2017) Released on 5th High-Level Forum on Financial Risks
Author:Translated by Sun Lei,Proofread by Li Bing
Editor:Yang Jun
Publish:2017-12-11
Size:TTT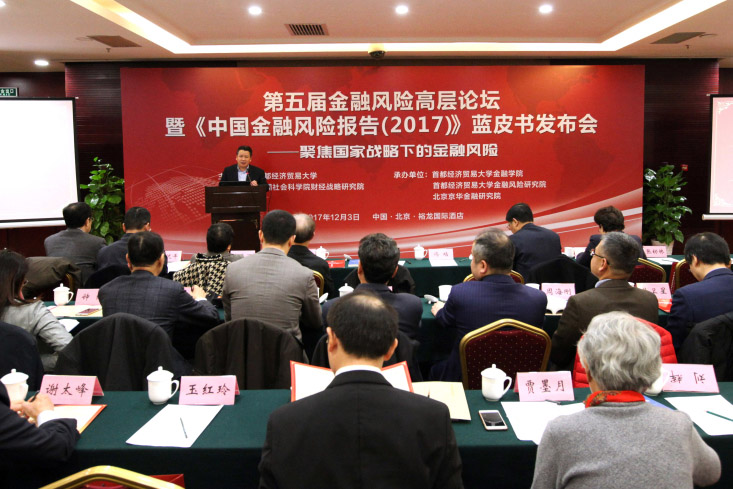 The 5th High-Level Forum on Financial Risks kicked off on December 3rd in Beijing, on which occasionthe Blue Book of China Financial Risk Annual Report (2017) was released. The event was sponsored by CUEB and National Academy of Economic Strategy,CASS, and co-organized by CUEB Academic of Financial Risk Research,School of Finance and Beijing Jinghua Financial Institute. This annual meeting was a grand feast of academic exchange dedicated to the research of China
'
s financial risks. This year
'
s focal point was the underlying risks as China steps up its efforts in the Three National Strategies, i.e., the Belt and Road Initiative, the coordinated development of the Beijing-Tianjin-Hebei region, and the development of the Yangtze Economic Belt. An in-depth look at the measures and management of financial risks will stimulate the development of CUEB financial discipline and provide perspectives for the state think tanks.
Feng Pei, Secretary of CPC CUEB Committee, made an opening speech and extended his warm welcome and sincere gratitude towards all the attendees. The floor was then given to Mr. He Dexu, President of National Academy of Economic Strategy,CASS.
CUEB Vice-President Wang Chuanshengannounced the release of the Blue Book of China Financial Risks Report (2017). According to Mr. Wang's introduction of the framework, the blue book consists of six sub-reports and six authoritative papers centered on risk study, covering a plethora of fields including international finance, capital market, portfolio investment, inclusive finance and operation of insurance fund. It highlights risk identification, assessment, warning, prevention and control of these areas. The report is the result of the commitment, devotion and diligence of all researchers from CUEB Academic of Financial Risk Research and showcases the institute's relatively outstanding capability in risk studies.
Yin Zhichao, Dean of CUEB School of Finance, accented the main contents of the blue book which was divided into two parts. The first part includes six sub-reports that analyze China's financial risks at macro and micro levels, and the other was compiled from six top-level academic papers published at home and abroad in the most recent year. Specifically, the research report discusses the country's macro- and micro-financial risks in and for 6 categories, namely assets quality of commercial banks, non-banking financial institutions, asset allocation, stock markets, equity derivatives, and global foreign exchange markets.
After the launching ceremony, scholars and experts kicked off a lively discussion and shared unique insights on latent risks in their own fields in the context of advancement in the Three National Strategies.
The four-hour release conference and panel discussion attracted over thirty world-renowned scholars and experts, and representatives from Economic Information Daily, China Economic Herald, Securities Daily, CCTV, IFENg.com, Sina Finance and Sohu.com.
CUEB Academic of Financial Risk Research was co-established by CUEB and IFB, CASS, and has held five high-level forums on financial risks, respectively in April, 2013, November, 2014, November, 2015, December, 2016 and December, 2017. Four China Financial Risk Annual Reporthave been published starting from 2014. Since its foundation, a high-level research platform has taken initial shape and a total of 144 core+ papers have been published,including one on International Class A periodical, one on International Class B periodical, three on International Class C periodicals, 34 on authoritative periodicals, 47 on CSSCI. It also boasts of 39 monographs. 61 research projects of different kinds of various levels have been approved, including five by NSFC, 11 by NSSF, 27 by the Ministry of Education, Beijing Natural Science Foundation and Beijing Social Science Foundation, etc. It was also granted another 12 horizontal projects by Research Office of the State Council, Beijing Municipal Bureau of Financial Work, and Administrative Committee of Zhongguancun Science Park. Three papers were enlisted in Achievement Report of Beijing Planning Office of Philosophy and Social Science and two projects were honored the 2nd Award of Outstanding Achievement by Beijing Planning Office of Philosophy and Social Science. These fruitful results have not only boosted CUEB's overall academic capacity in finance but also helped the government make sound decisions.