Representatives from 9 Oversea Partner Institutes Attended the 60th Anniversary Celebration of CUEB
Author:Translated by Lu Ni, proofread by Zhang Huixiang
Editor:Yang Jun
Publish:2016-10-24
Size:TTT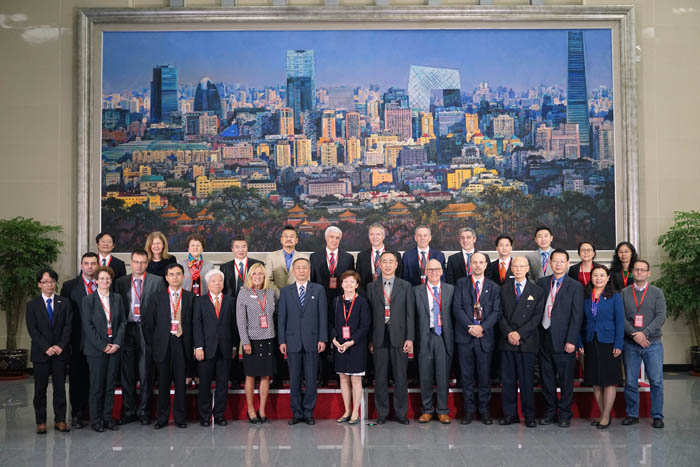 On the afternoon of October 15th, Secretary of the Party Committee FengPei met the principals and representatives from 9 oversea partner institutes. There were President Jane den Hollander, Executive Vice President Kelly Smith of Deakin University, President of Ryutsu Keizai University, Vice President Cindy of Cleveland State University, Director-general Yan Yuntai of Confucius Institute in Cleveland State University, President Gustavo Peja of University of Rome Tor Vergata,Dean Jane Falkingham of University of Southampton,Dean Assari of Marketing Department of Plekhanov Russian University of Economics, Professor Bykov of Economic Management Department of Belarus State Economic University, Vice-President Ding Peiyi of Confucius Institute of Griffith University, Secretary-general Deng Jiahong of Providence University and so on.
President of Ryutsu Keizai University delivered a speech to congratulate on the 60th anniversary. He said:" we have cooperated with CUEB for 30 years, and this year stands out as a notable milestone in the history of our cooperation. Many young teachers sent by CUEB came to our school pursuing their master or doctoral degrees, and after returning back, they continued to contribute to CUEB. We both have benefited a lot from our cooperation.
Vice president Gustavo Peja of University of Rome Tor Vergata made a statement that the knowledge can transcend the boundary of country. Only through exchange and collision, will different knowledge enriches each other. He also cited the word "compete" in Latin which originally means "run fast together" to indicate that the competition between universities should be benign and cooperative, and we should seek common development. CUEB has achieved great success during the past six decades, and they do hope to establish an extensive cooperation with CUEB in students' cultivation, academic exchanges and scientific research cooperation and innovation.
After the meeting, representatives from oversea partner institutes sent their souvenirs to CUEB in memory of the 60th anniversary, and then took a group picture together.
During their visits, they also attended the Commemoration on 16th, watched the theatrical performance, enjoyed the international cultural festival and also visited CUEB history exhibition.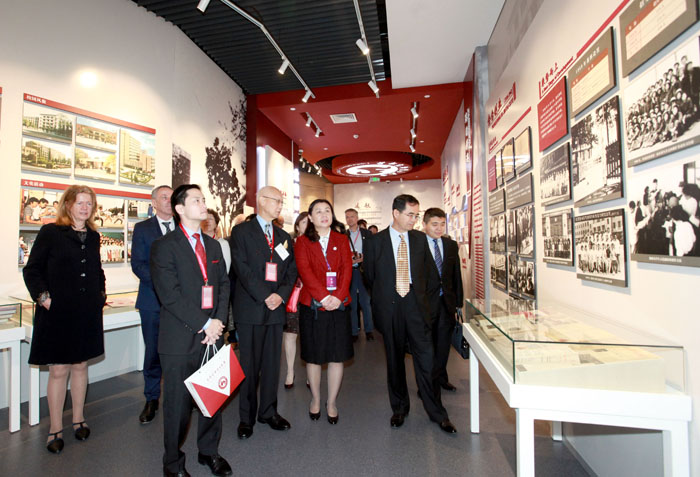 Delegates visited CUEB history exhibition