President of Athlone Institute of Technology Visited CUEB
Author:Translated by Lu Ni, proofread by Zhang Huixiang
Editor:Yang Jun
Publish:2016-11-07
Size:TTT
On October 19th,Ciarán Ó Catháin,president of Athlone Institute of Technology and Meng Jing, Asian Region Director of International Office visited CUEB again. Secretary of Party Committee Feng Pei, Vice President Xu Fang met with them in Hechang Hall, Boyuan Building. They communicated with each other about furthering students' exchange, joint education, research innovation and so on.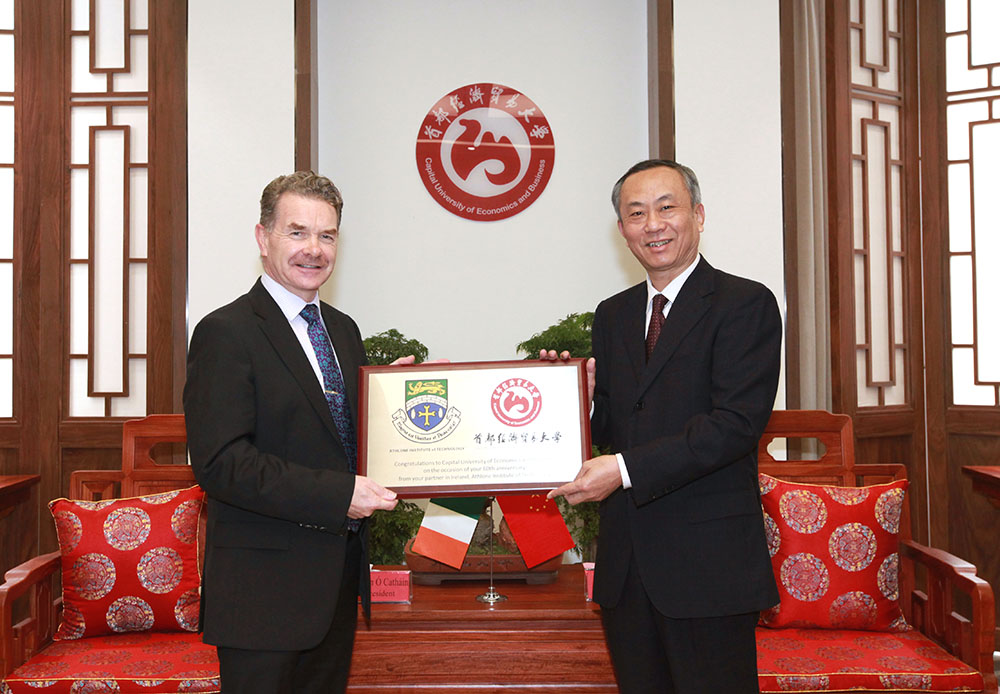 Feng extended his warm welcome to Catháin on behalf of CUEB, and briefly introduced to him CUEB's 60th anniversary celebration. He also expressed his appreciation of the efforts that Catháin had made to promote the exchange and cooperation between the two universities, and hoped that the two sides can deepen friendship and cooperation, and seek common development.
Feng said that this year marks the beginning of China's "13th Five-Year Plan" and it is full of opportunities and challenges. With the adjustment in global landscape after Brexit, the fast-changing world economy, rapid development in Internet and E-commerce and the popularity of online education, the scientific research and talents exchange among universities have become even more important. Feng also made several proposals to Catháin: first, the cooperation model with the School of Labor Economics can be expanded to the School of Information and the School of Accounting at CUEB, and based on the undergraduate exchange programs, the two universities should also focus on developing the joint training program at the graduate level, jointly educating graduate students with practical skill sets, innovation capability, global vision and mastery of the English language. Second, the two universities can build a sharing and open platform for cooperation for interdisciplinary research. With President Catháin's rich social and political resources, the two sides can establish a research center at CUEB where scholars from the two countries can do research and cooperate on issues covering labor relations, human resources, talents flow and so on.
Catháin firstly expressed his sincere congratulations on the CUEB's 60th anniversary, and said that CUEB has always been their important partner in China, and they have cooperated with the School of Labor Economics for many years. Catháin hoped that the friendship will be maintained and the cooperation be deepened. He also agreed to Feng's proposal to build the research base and the research issues can be further extended to economic development in Europe, population mobility, refugee flows in Europe, influence of Brexit and so on.
Xu Fang said Athlone Institute of Technology has been our close partner, and we can further deepen our cooperation in the following aspects: First, we can promote our joint education at undergraduate and graduate level; second, a research center in economics especially labor economics can be built for relevant research; Third, students from Ireland are warmly welcomed to participate in short-term or long-term programs in CUEB; Forth, the two universities can also exchange ideas in sports competition and cultural development.
After the meeting, Feng and Catháin exchanged gifts and took a photo to mark the occasion.