Student Networking: CUEB School of Economics and Belgian Artevelde Hogeschool
Author:Translated by Sun Lei, proofread by Liang Jue
Editor:Liang Jue
Publish:2017-04-25
Size:TTT
On the afternoon of April 17, some undergraduates of the School of Economics (SOE) and over 30 peer students of Artevelde Hogeschool(Artevelde University College Ghent) from Belgium had a culture-exchange and networking event.

At the beginning of the meeting, which took place in Classroom 736 in Boxue Building, Bao Lei, coordinator of international communication at the SOE gave a brief induction to CUEB and the international exchange programs of his school, and made a comparison of the higher education systems between China and Europe. When talking about the purpose of this visit, Cathy De Witte of Artevelde Hogeschool said that the trip to China was part of a compulsory overseas course and it was of great significance in fostering the students' global vision and international competitiveness.
During the interaction, 30 Belgian students were divided into six teams, each partnered with two Chinese students, and then started their excursion on the campus and exploration of Chinese food.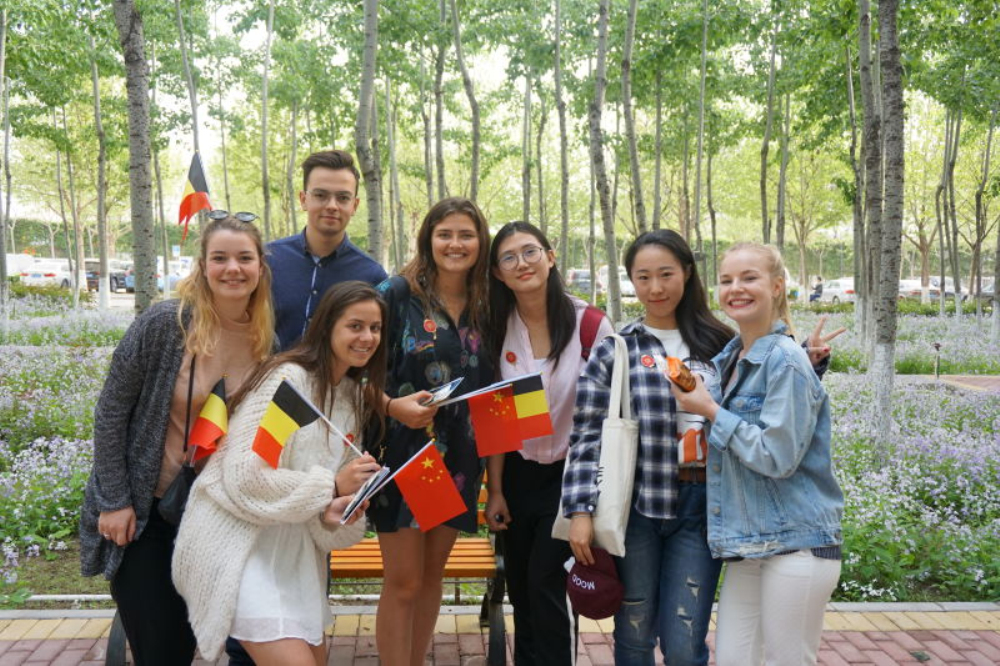 The campus tour saw extensive exchanges and interactions between Chinese students and their foreign partners. Due to geographic and cultural differences, interesting conversations came up from time to time. The foreign friends were amazed at how big the campus was, with so many buildings and broad streets. Many of them were surprised at the tuition and accommodation fees, and commodity prices in China. The campus was dynamic and energetic as this exchange activity coincided with the upcoming sports meeting. The Belgian students were attracted to the playground and participated in various trainings. Chinese students also took their teams to the canteens for more authentic experience of living on a Chinese campus. The foreign students were deeply fascinated with the profound Chinese culinary culture and found their favorite food in Canteen No.3.
Time flies, yet friendship stays. When they parted, students from both universities hugged each other and exchanged their contact information for future communication.
The School of Economics will conduct another cultural exchange with the University of Toronto from Canada on June 1.The School hopes exchange activities like this can bring students more opportunities of international communication.