2,657 Students Received Bachelor's Degrees From CUEB
Author:Translated by Wang Qi,Proofread by Li Bing
Editor:Yang Jun
Publish:2017-07-10
Size:TTT
On the morning of June 29th, CUEB held Class of 2017 Graduation Ceremony and Commencement Ceremony at school gymnasium.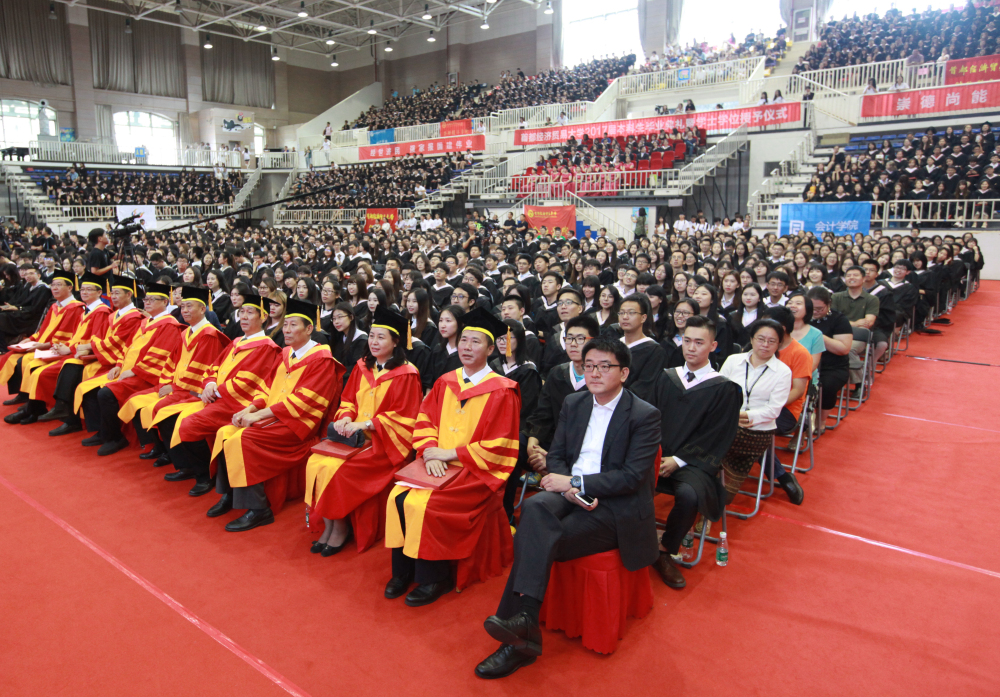 The ceremony began with the CUEB version of "Chengdu" and chorus "Graduation" by school counselors. Party Secretary Feng Pei read out "Decision on Graduation Approval for Class of 2017 " and "Decision on Conferring Bachelor's Degrees on Class of 2017". 2,657 undergraduates received bachelor's degrees, of which 860 students received a Bachelor of Economics, 1,207 students a Bachelor of Management, 120 students a Bachelor of Law, 64 students a Bachelor of Engineering, 154 students a Bachelor of Science, 252 students a Bachelor of Arts.

Deputy Party Secretary Xu Fang read out "Decision on Awarding the Honorary Title of Beijing Excellent Graduates of Class of 2017" and "Decision on Awarding the Graduates to Work at Grass-root Levels". 125 undergraduates were awarded "Beijing Excellent Graduates", 58 graduates in response to the call of CPC Central Committee and the State Council, went to work at grass-root levels, serve the western China or join in national defense. School leaders presented honorary certificates to student representatives of the two categories.
In addition, in order to strengthen the communication between alumni and alma mater, CUEB appointed 155 graduates of Class of 2017 as alumni liaison.
President Fu Zhifeng made a speech at the ceremony. On behalf of the school, he extended congratulations to all the graduates of Class of 2017, and paid tribute to all teachers, families and friends who care about, educate and help the graduates. Four years of undergraduate study will leave the graduates a life-long memory. At the time of parting, Fu Zhifeng encouraged graduates to establish great ambition, integrating the personal goal into the realization of "Two Centenary Goals" and "Chinese Dream" on the road of the great rejuvenation of the Chinese nation; to honor the training, parenting and teacher's teachings with excellent performance and achievements; to be hardworking, carry forward the spirit of school motto "Advocate Morality, Value Competence, Strategize National Development and Promote Citizen Welfare", to undertake the historical mission of the times and not spend youth in vain; stick to dreams and come back to visit "home"; give advice and support for the alma mater development.