Youth Shines through Struggles, Story-Sharing Event Held by CUEB
Author:Translated by Sun Lei, Proofread by Hua Zexun
Editor:Yang Jun
Publish:2017-05-08
Size:TTT
The CUEB Committee of the Chinese Communist Youth League held a commendation ceremony on May 4th to celebrate the 95th anniversary of the Youth League. The event also featured a story-sharing session under the theme "Youth Shines through Struggles."
The commemoration kicked off with the poem recitation Ode to Youth, which was followed by "Fighting As One 2016", a short video highlighting the main tasks and accomplishments of the CUEB Committee in the past year under the leadership of the CPC CUEB Committee and higher Youth League organizations.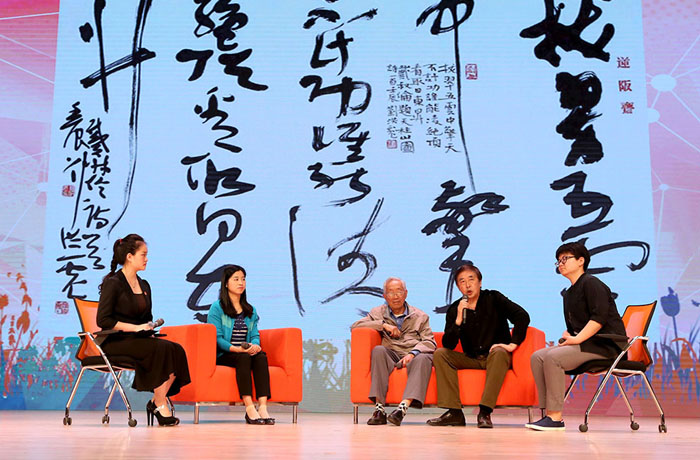 The following commendation ceremony witnessed Mr. Sun Shanxue present awards to representatives of the university's Youth League organizations that had won national awards in various activities launched by the CYL Central Committee in 2016. Xu Fang gave awards to winners of the Beijing May 4th Red Flag Youth Corps and other municipal awards.
In the story-sharing session, the Youth League branch of the CPA Class of 2013 from the School of Accounting brought the audience their own melodrama. The play against the backdrop of a Youth League Day featuring Chinese Dream encouraged us to work hard and pursue dreams.
In a reminiscence Gone Are My Youthful Days: A Conversation Among Three Generations, Yu Kunyi and RongQuantang, retired comrades of CUEB, Chen Lei, a young teacher and Zhang Biwei, an outstanding graduate, talked about their youthful days and urged us to cherish our Youth League membership, hold onto our interests, follow our hearts and train ourselves to be qualified builders and reliable successors of the socialist cause.
In an exclusive interview titled Social Practice Accompanying Youth, Professor Ji Shao from the School of Labor Economics, shared her experiences and insights of her social practices during the summer vacation. As a winner of the outstanding individual award of summer volunteer work in the countryside organized by the Central Committee of the CYL, she encouraged all League members to be ambitious, aspiring, responsible and refined CUEBers who are adamant in making a difference.
Zhang Tianchan, a third prize winner of China College Student' Entrepreneurship Competition, gave a splendid speech How Far Is It From 0 to 1, sharing all the joys and excitements through her struggles in starting her own business. Wang Yuyan, a former head of the Students' Dance Troupe, also told an emotional story about the days she spent in trainings, performances and competitions with her peers. The four years' dances throughout her college time have instilled in her the beauty of art alongside a spirit of perseverance and a mindset of racing to the top.
After the sharing, the student dance troupe staged a show Out of Swamp and Chorus of CUEB gave a wonderful performance of Music to Dance of Youth.
The event was broadcast live by the Division of Publicity of the CUEB Youth League Committee and topped 60,000 views in total.