CUEB--MSU Agreement on Academic Cooperation
Author:Translated by Sun Lei, proofread by Wang Qi
Editor: Liang Jue
Publish:2017-05-31
Size:TTT
On May 22nd,Xu Fang, Deputy Secretary of the CPC CUEB Committee received in Boyuan Building the delegation of Michigan State University (MSU), led by Steven Hanson, Associate Provost and Dean for International Studies and Programs. Ms. Xu and Mr. Hanson signed a framework agreement on academic cooperation and conducted in-depth communication on staff and students exchange, collaboration on scientific research and co-education programs between the two universities.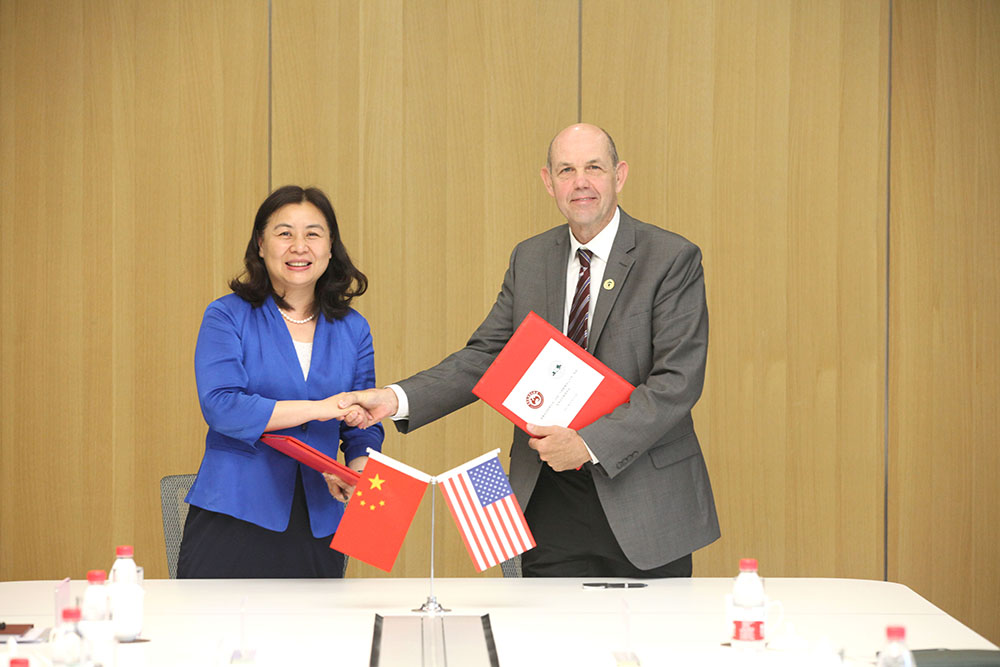 The Deputy Secretary extended warm welcome and thanked MSU, especially its Department of International Studies and Programs, for the support and care for CUEB teachers and students who visited MSU in the last few years. CUEB hoped to conduct further cooperation with its US counterpart in all dimensions for mutual benefit. Ms. Xu proposed to launch co-education and double-degree programs for undergraduates and postgraduates in preponderant disciplines so as to intensify student communication and exchange. As for staff exchange and R&D collaboration, Xu Fang sincerely invited MSU professors to teach in CUEB Summer Program and boost academic exchanges. She hoped both universities would work together in building international forums and centers for scientific research and innovation, and explore the possibilities in joint education.
In agreement with Xu Fang's proposals, Steven Hanson pointed out that both CUEB and MSU shared similar visions and international strategies and the existing cooperation should serve as a foundation for a more extensive student and staff exchange program and more efforts in joint scientific research. He also pledged to dock the Business School, Law School, etc. of MSU with its CUEB counterparts and to carry out exchange and cooperation projects.
Mi Xinli, Deputy Secretary of the Party Committee of School of Law, Wang Yating, Deputy Dean of School of Finance, and Fan Hejun, Deputy Dean of School of Business Administration gave a brief introduction of their own school respectively. They hoped to establish partnerships with MSU in the aforementioned aspects. Ma Yanru, Deputy Director of Division of Personnel, highlighted the progress we made in personnel international training. According to her, 52 teachers have been sent to MSU for advanced research and training in recent years and this number would record 10 this year.
Wu Xinyu, Director of VIPP (Visiting International Professional Program) at Michigan State University, and Qi Jiaguo, Director of MSU China programs briefed the attendees on the joint collaboration institutions MSU is currently pursuing with Chinese universities. They suggested that teachers from both universities should beef up cooperation in scientific research by working together in conducting researches and publishing papers.
The attendees also included Xia Qing, Deputy Director of MSU China programs, Huang Liwei, Deputy Director of Division of International Education and Exchange of CUEB, and Yang Yang, Director of International Programs of School of Finance. Before the meeting, Mr. Huang Liweigave the MSU delegation a tour in the Archives of CUEB.